Low Carb Sugar Free Peanut Butter Cup Pie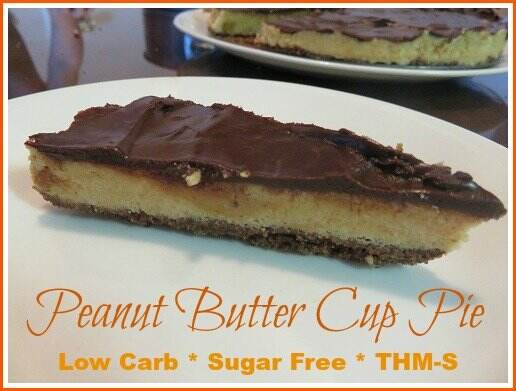 Repin this post for later!
So, I saw this recipe for chocolate peanut butter pie floating around facebook and it looked really good, but it is not plan friendly, as it contains Oreos and powdered sugar. But I thought to myself: "I can tweak this to make it plan friendly." So I did.
I should note even though this would be on-plan, it is pretty rich and would probably be considered a "heavy S," and therefore probably best after a fuel pull meal or even on its own with a nice glass of FP chocolate milk. With the protein powder in this recipe, plus the peanut butter, there's about 8g protein in 1/16 of the pie. It's rich. You probably won't want more than that. If you want an even smaller piece, a 1 cup serving of chocolate milk will add 5g protein. And we all know protein is essential whatever the fuel type!
The peanut butter filling also makes a great replacement for peanut butter cups. Sometimes I just make those and coat with 1/2 recipe of skinny chocolate and keep them in the freezer.

Ingredients you will need:
Chocolate Crust
1/2 cup almond flour
1/2 cup flax meal
1/4 cup coconut flour
3 TBSP cocoa powder
2 TBSP Gentle Sweet (see my homemade version here) or Pyure or Truvia
3 TBSP melted butter
Peanut Butter Filling
3/4 cup melted butter
1 cup plain, unsweetened protein powder
3/4 cup Gentle Sweet
1 tsp vanilla extract
3/4 cup natural peanut butter (no sugar added)
Chocolate Ganache
1/2 cup on-plan chocolate chips, such as Lily's (I used *ahem* Hershey's sugar-free, which are not technically on-plan because of off-plan ingredients, but are much cheaper)
1/4 cup heavy cream
First make the chocolate crust by melting the butter and adding the other chocolate crust ingredients. Press into the bottom of a 9 inch springform pan (or 8×8 square pan, or 9 inch pie dish). Place in the fridge while you make the peanut butter layer.
Melt the butter and peanut butter in a large glass mixing bowl. I put it about a minute in the microwave. Mix in the protein powder, gentle sweet and vanilla and pat the peanut butter mixture in the pan on top of the crust. 
Finally the chocolate ganache. Bring the cream to a simmer and pour over the chocolate chips. Stir until the mixture is creamy. You may want to put the bowl in the microwave for 15-20 seconds to make sure all the lumps are out.
Smooth the chocolate over the peanut butter layer. Put the whole pie in the refrigerator about an hour, then cut into 16 slices.
Enjoy!