Make it Monday: Ice Cream (No Machine Required!)
How to Make Ice Cream without a Machine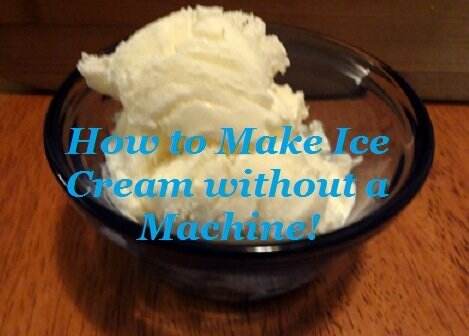 Have you ever made your own ice cream? It can be a fun and educational activity for kids, plus you can customize it as you please! If you have an ice cream maker, that's great, but I'm going to explain how to make ice cream without a machine. I personally find it easier and less messy, though it does take a little longer overall.

To make this recipe for vanilla ice cream, you will need a mixer and, of course, a freezer, as well as the following ingredients:
1 cup whipping cream
1 cup milk
1/4 cup sugar
1 tsp vanilla
Before you start, chill the mixing bowl in the freezer. When you are ready to start, put all the ingredients into the bowl and beat on high speed, about 10 minutes.
Place the bowl in the freezer about an hour, then take it out and beat the mixture again. Repeat at least one more time. This is because you don't have the constant churning of the ice cream maker.
Freeze for several more hours and then it is ready to enjoy!
You can also try these variations:
For chocolate, add 2 TBSP cocoa powder.
For peanut butter cup, add 1 TBSP peanut butter and 1/2 cup crushed up peanut butter cups.
For mint chocolate chip, omit vanilla and add 1/2 tsp peppermint extract and 1/4 cup mini chocolate chips.
For rocky road, add 2 TBSP cocoa powder, 1/4 cup chocolate chips, 1/4 cup marshmallows and 1/4 cup nuts.
What is your favorite way to eat ice cream?
This post has been linked up at one or more linkies. To see all the linkies I've participated in, check out my link party page!
Like this post? Please retweet this status with one click!
Have you ever made your own ice cream? This recipe requires no machine! http://t.co/55DDLfqAfm http://t.co/llRmUYBGXq

— Ordinary Housewife (@AOHousewife) June 25, 2014