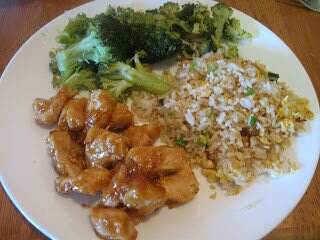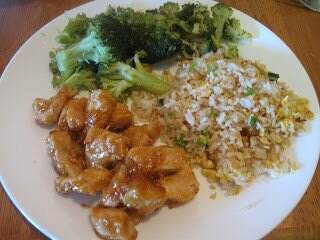 In the town we live, though there are plenty of restaurants, we have yet to find what we would consider a good Chinese takeout. And while we do have a good buffet here, my husband has issues with MSG (he gets migraines) and he says the one here uses it. Plus, you always feel like you have to "get your money's worth" and end up over-eating and feeling sick afterward. Or at least we do.
One of my favorite entrees at the buffet is the orange chicken. My hubby is not a super huge fan of it and says a big reason for that is he doesn't care for the breading. So I found this great recipe and left out the extra breading. I have made it once before with the breading, and I thought it was great. Hubby liked it much better this time around, and it really didn't subtract anything for me, so I think we have a keeper. 🙂
To make this (this is sans breading version) you will need:
2 Chicken breasts, cut in bite-sized pieces
1 TBSP cooking oil or butter
1 1/2 TBSP ketchup
1 tsp vinegar
1 TBSP soy sauce
1/2 cup water
6 TBSP sugar
1 heaping TBSP corn starch
1/2 tsp ginger
1 tsp garlic powder
1/2 tsp seasoned salt
1 packet True Orange seasoning (optional, but gives it a hint of orange)
optional sesame seed and dried onion flakes
First of all, you pan fry the chicken pieces with a TBSP of oil, about 10-15 minutes. While the chicken is cooking, mix up your sauce, which is all the rest of the ingredents. Mix the sauce thouroghly.
When the chicken is fully cooked, add it to the bowl of sauce and coat the chicken thouroghly. Pour the chicken, sauce and all, back into the pan and cook at medium heat until the sauce comes to a simmer and thickens to a honey-like texture.
And that's it! Not too hard. Serve with white or fried rice. I prefer fried rice myself, and I think I'm getting pretty good at it. 😉 I also try to serve a veggie. Steamed broccoli works well, I think. If you wanna add some eggrolls, pot stickers or crab rangoons, that works too. Hope you love it as much as I do!