Mozzarella Sticks Recipe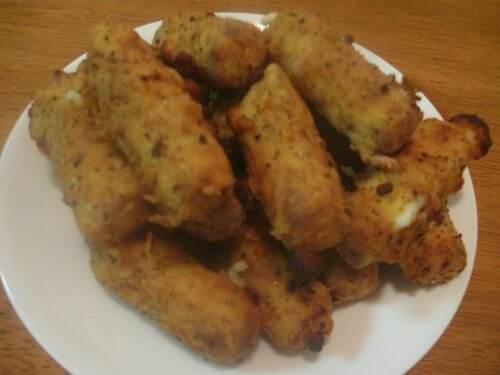 I love mozzarella sticks. I don't usually get to have them when we go out to eat, because we don't usually get appetizers. I'm not huge fan of the frozen cheesesticks you heat up in the microwave either.
I have finally figured out how to make really awesome mozzarella sticks at home. They are a little more work than I like and you have to wait for them to freeze. In general, I like quick and easy. But these are worth it when they're done!
Ready to get started? Here's what you'll need:
12 string cheese mozzarella sticks
1 large egg
1/4 cup milk
1 cup flour
2 TBSP Mrs. Dash original seasoning
oil for frying
 First, make sure the cheesesticks are dry, then cut them in half. Line a cookie sheet with a lightly greased piece of wax paper. In one bowl, beat together the egg and milk and in another bowl mix together the flour and seasoning.
Immerse one of the cheesestick halves into the egg and milk mixture, then coat with the flour mixture. Dip it again into the egg and milk and again into the flour mixture. This is important for creating a seal. Place the battered sticks onto the cookie sheet, not touching.
Once all the sticks have been battered, place the cookie sheet in the freezer, at least an hour. When you are almost ready to start frying them, heat up about an inch of oil in a cast iron skillet or deep fryer about 10 minutes. I usually use lard, but any cooking oil will do.
Remove the cookie sheet from the freezer and place as many sticks as will fit without overlapping into the oil. Fry them in the oil about 5 minutes, until the breading turns brown. Meanwhile, put a couple of paper towels on a plate (to soak up grease) so it's ready when the mozzarella sticks are ready.
With a slotted spoon, remove the mozzarella sticks one at a time from the grease. Using tongs may puncture the batter and cause cheese to leak out. Lay them on the paper towled plate to cool and drain excess grease while you work on the next batch (if there is another).
And that's it! You have a delicious plate of mozzarella sticks that will likely be downed in no time flat. 🙂
If you like this recipe, please retweet! It only takes a click!
Do you like mozzarella cheese sticks? You can make your own! Check out the #recipe here: http://t.co/RCFDtRKisg pic.twitter.com/P9Y95wGHfa

— Ordinary Housewife (@AOHousewife) May 29, 2014

This post has been linked up at one or more linkies. To see all the linkies I've participated in, check out my link party page!