Low Carb Sugar Free Coconut Bon Bons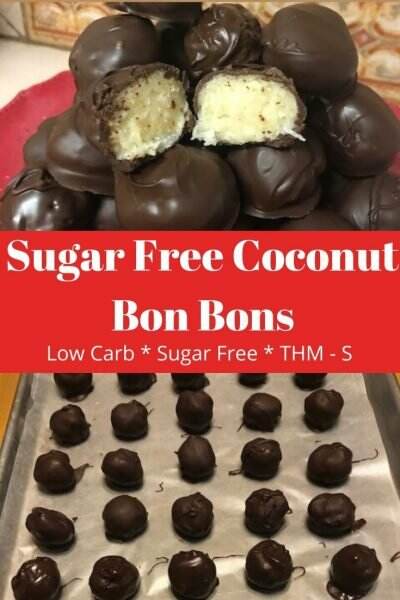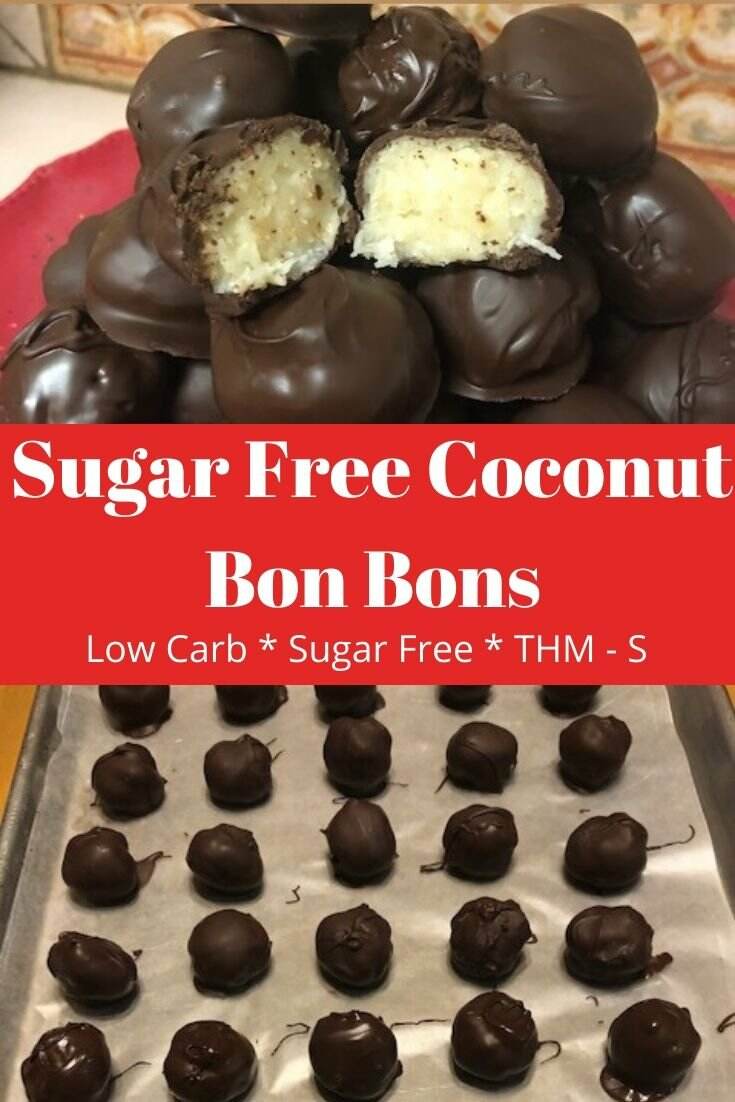 Making coconut bonbons is one of my favorite holiday traditions for us. Making a sugar free version has been on my to do list for a year or so, but I didn't manage last Christmas. This recipe makes delicious sugar free coconut bon bons.
*Affiliate links may be included in this post. As an Amazon Associate, I earn from qualifying purchases. Please see full disclosure policy here.
This recipe makes about 70 coconut bon bons. They can sit at room temperature with no problem, but my husband likes them cold. If they have been kept in the fridge and then set out, they may "sweat."
I have adapted this recipe from the sugar filled recipe I've been using for years. These sugar free coconut bon bons are low carb and would be an S on the Trim Healthy Mama plan.
The original recipe uses sweetened condensed milk. I have not found a decent prepackaged sugar free sweetened condensed milk, so I used the next easiest thing, which is this microwave sweetened condensed milk from Nana's Little Kitchen.
It's quick and easy and takes much less time to make than the other recipes I've seen that require you to watch and stir for half an hour or more. The only thing I added was 1/2 tsp gluccie because I really wanted to make sure it wasn't too thin.
Once you make the sweetened condensed milk, you can mix the rest of the ingredients in the same bowl.
I used Swerve confectioner's sugar in this recipe. I use Gentle Sweet (or my homemade blend) for most of my sugar free baking, but I felt like the bulk the Swerve added was important. Since Gentle Sweet is twice as sweet, you'd only use half as much and it may make the dough too sticky. I did use Gentle Sweet in the sweetened condensed milk portion of the recipe, however.
Ingredients for sugar free sweetened condensed milk
1 1/4 cup cream
1/3 cup Gentle Sweet (or my DIY version)
1/4 tsp salt
1/2 tsp gluccie
Please go to Nana's Little Kitchen for instructions on the sweetened condensed milk, but whisk in the gluccie in addition to the other ingredients before cooking.
Coconut Filling
1 12 oz bag Swerve powdered sweetener
1/4 cup (1/2 stick) of butter
4 cups of unsweetened shredded coconut
1 tsp vanilla extract
Chocolate Coating
About 2 cups sugar free chocolate chips (You will need to have 2 bags of chips on hand, though you will not use all of the second bag.)
3 tsp coconut oil
As soon as the sweetened condensed milk is done, add the butter and cook another 30 seconds so the butter is melted. Then add the vanilla and Swerve and stir until combined.
Add the shredded coconut, one cup at a time, stirring after each addition. You want it to be a scoopable texture you can roll into balls. Let it cool to room temperature.
Line 2 cookie sheets with wax paper. Roll the dough into balls the size of small walnuts, or shooter marbles and place them on the wax paper. I managed to get 5 rows of 7 on each tray.
Put the trays in the freezer for about 30 minutes (or more) before dipping in chocolate.
When you are ready for dipping, melt about 2/3 cup of the chocolate chips along with a tsp of the coconut oil in a double boiler. You can also use a glass or stainless steel bowl set over a pot of boiling water if you don't have a double boiler, but I do suggest getting one if you can. I feel it works a bit better.
Roll the coconut balls one by one in the melted chocolate, coating the whole thing with chocolate then return it to the wax paper. You can use a toothpick, but I prefer a utensil made for dipping chocolates. Work as quickly as possible and don't allow the candy to sit in the chocolate, as you will mess up your dipping chocolate
When the first set of chocolate chips has been used up, add another 2/3 cup and 1 tsp coconut oil. Then repeat for the third one. It should use around 2 cups altogether.
When the chocolates are cooled and the chocolate has firmed up, they are ready to serve!