Sugar Free Vanilla Custard Nog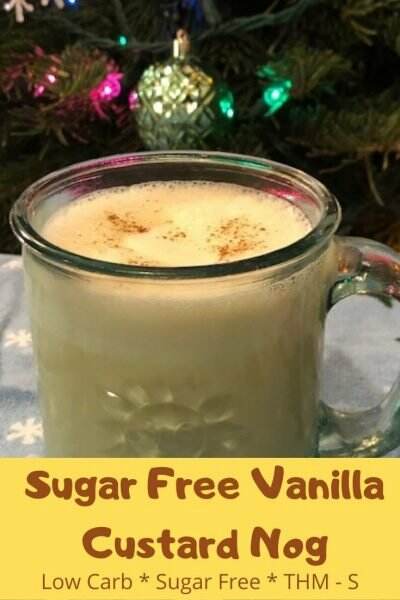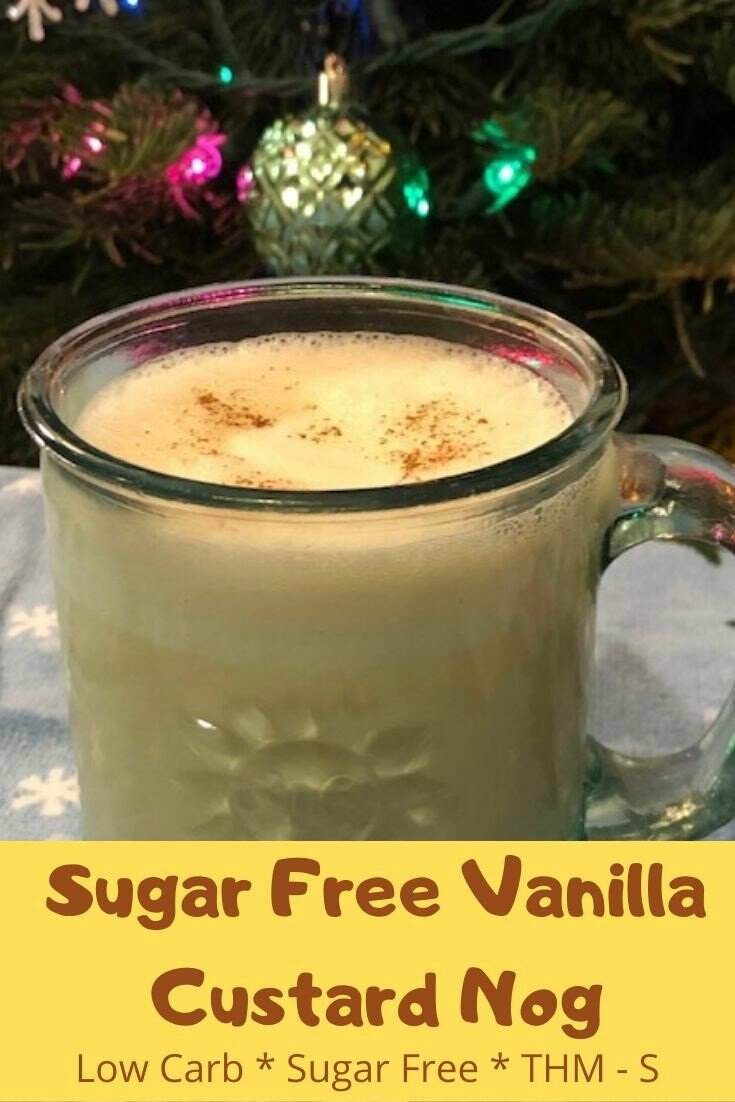 This time of year you can find like a hundred different flavors of egg nog in the store. All full of sugar of course. My husband only likes one or two of them because he is super picky about his egg nog. One of the few he likes is actually called "custard nog." So, here is a sugar free custard nog that is husband approved.
*Affiliate links may be included in this post. As an Amazon Associate, I earn from qualifying purchases. Please see full disclosure policy here.
Unlike many of the other low carb egg nog recipes I've seen, this recipe doesn't use almond or nut milk. Nobody in my family really likes it and it definitely has a certain taste.
Also, I use whole eggs instead of just egg yolks, because it's easier than separating out yolks and it still turns out well. Enjoy the freedom of just cracking the whole egg into the blender!
I use a combo of cream and water in place of the milk I used to use in my custard nog. I know you're thinking "What? Water?!" but with all the other ingredients it does not taste watery!
If you're comfortable with adding the liquid carbs of milk, it does give it an extra depth. If you choose to go that route, I would recommend using Fairlife as it has less lactose than regular milk, and keep your serving size to no more than 3/4 cup.
This is an S on the Trim Healthy Mama plan! This recipe makes two 1 cup servings, or four 1/2 cup servings.
Sugar Free Custard Nog Ingredients
1 1/2 cup water
1/2 cup heavy cream
2 eggs
3-4 TBSP Gentle Sweet (or my DIY version)
1-2 tsp vanilla extract
generous pinch of salt
1/32 tsp (1 "doonk") cinnamon
1/32 tsp (1 "doonk") nutmeg
1/4 tsp gluccie (or xanthan gum)
Note: You can vary the amounts of cream an water, as long as the total liquid equals 2 cups. So if you want to use 1/4 cup of cream and 1 3/4 cups water to lighten it up, feel free to do that. Full disclosure, the first batch I made had half cream and half water and DH thought it was great. But that's also really heavy. So just keep that in mind.
Instructions
Put the water and cream in a small saucepan and heat on the stove on high heat until the liquid just starts to bubble. It should take about 5 minutes.
Meanwhile, add the eggs, sweetener, vanilla and salt to the blender. Put the lid on it.
When the milk just starts to boil, remove from heat and start the blender. While the eggs/sweetener is blending, remove the fill cap (the part of the lid you remove) and slowly pour the hot milk into the blender, followed by the gluccie. Blend about a minute altogether.
My family prefers mostly the vanilla flavor with just a bare hint of the cinnamon and nutmeg, but you can add more cinnamon, nutmeg or rum flavor if that is your preference. Serve hot or cold.