Sugar Free Peppermint Cream Pie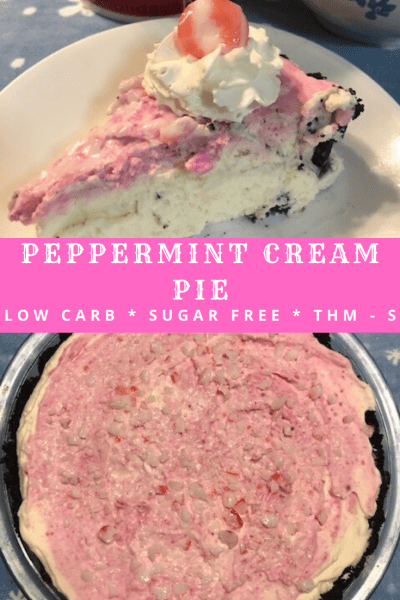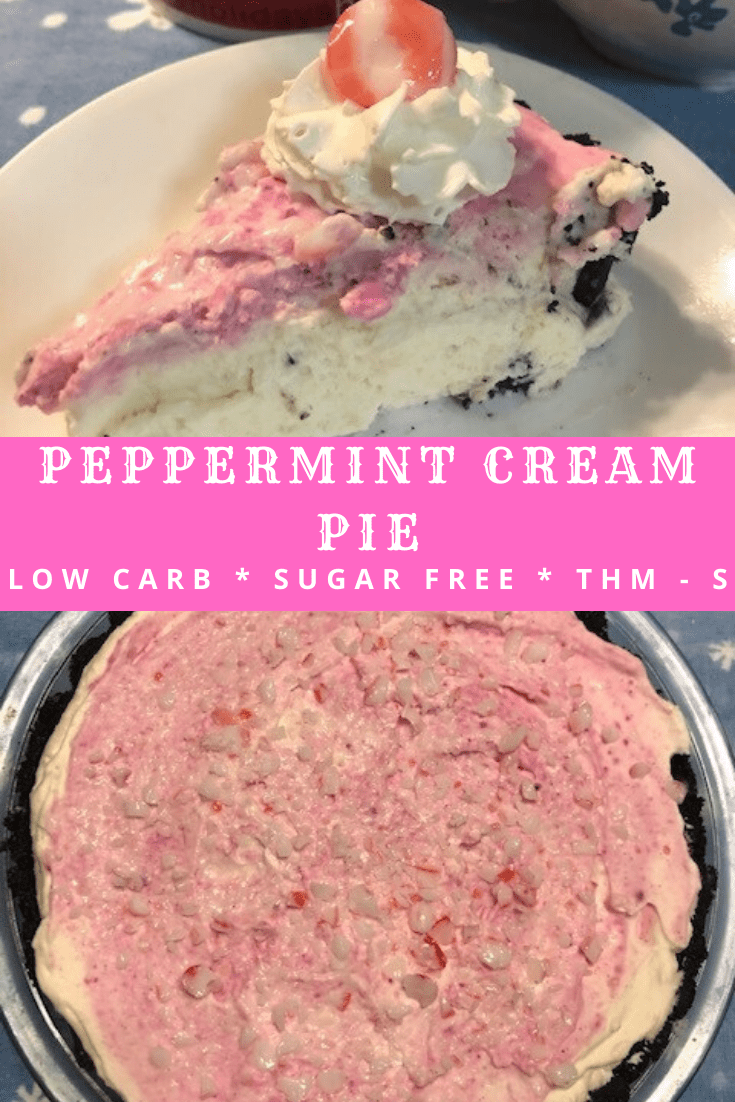 One of my favorite parts about the holiday season is that there are so many "seasonal" peppermint treats available. Of course, most of those things are full of sugar, so it's probably best that they're not available year round. But I figured this was a pretty good time to share this low carb, sugar free peppermint cream pie recipe I came up with.
*Affiliate links may be included in this post. As an Amazon Associate, I earn from qualifying purchases. Please see full disclosure policy here.
Why should you make this? Well, it's peppermint for one thing. You probably wouldn't have even clicked on this post if you weren't a fan.
Also, it's chocolate. I know it might not look like it, but there is chocolate in both the crust and the filling. The stuff in the filling is actually whipped cream and sugar free white chocolate chips and the crust is a dead ringer for the premade Oreo pie crusts you can buy in the baking section at the grocery store. After I made my pressed crust, I tasted some of the leftovers in the bowl and could have sworn I was eating crushed Oreos.
The trick to getting the true Oreo taste is using black cocoa powder. This is different from regular cocoa powder. If you don't want to invest in a bag of black cocoa powder, you can just use regular, but it won't taste quite the same. Black cocoa powder also works well in my sugar free white truffles recipe.
This recipe uses sugar-free white chocolate chips. Bake Believe, Choc Zero and Lily's are all acceptable options, but my favorite is Lily's.
If you don't have access to sugar free white chocolate chips, or cannot use them you can use regular sugar free chocolate chips, like the Trim Healthy Mama chocolate chips.
The pie filling will no longer be white, however. You can also just leave them out if you have no objection to eating just straight whipped cream with an Oreo crust. It will probably be more like peppermint Oreo fluff. Which, you know, doesn't actually sound bad.
This recipe is an S on Trim Healthy Mama. It's also a fairly heavy S and quite rich. But it makes an amazing occasional treat, especially around the holidays!
If you are unfamiliar with trim Healthy Mama, please see my post on how to get started on Trim Healthy Mama for more info!
Chocolate "Oreo" Crust Recipe
1 cup almond flour
1/4 cup Gentle Sweet, or equivalent (I make my own blend)
1/4 cup Black cocoa powder
generous pinch mineral or sea salt
1/4 cup (1/2 stick) melted butter
1/2 tsp blackstrap molasses
In a small mixing bowl, mix the almond flour, sweetener, black cocoa powder and salt.
In a small microwave bowl, melt the butter and molasses, about 30 seconds in the microwave. Pour into the dry mixture and stir until you get a moist, crumbly mixture. It should hold together when you pinch a bit of it between your fingers.
Dump the mixture into a 9 inch pie plate and press, gently working it to and up the edges. Put it in the fridge to cool while you make the filling.
Peppermint Cream Filling Recipe
1 1/2 cups heavy whipping cream
1/2 cup Gentle Sweet or equivalent
1 tsp vanilla extract
1 tsp peppermint extract
1 tsp cream of tartar
1 cup sugar free white chocolate chips
1/4 cup half and half
optional red food coloring (I use a tsp dragonfruit powder for a natural coloring)
Sugar free peppermints (optional)
In a mixing bowl, add whipping cream, sweetener, vanilla, peppermint and cream of tartar. Beat on high speed, 4-5 minutes, until it fluffs up. Do not over beat or it will start to separate!
Put the whipped cream into the fridge while you melt the chocolate chips.
Put the chocolate chips and half and half in a microwavable and melt in the microwave 30 seconds, then stir. If it is still not completely melted. Microwave another 10 seconds and try again. Make sure not to over cook or it might dry out.
Once the chocolate is melted, immediately pour into the whipped cream. Pour slowly and stir as it hits the whipped cream. Gently stir until it's all incorporated.
Optional step: Remove 1/2 cup of the whipped cream into a small bowl and add 1 tsp dragonfruit powder or a couple drops of red food coloring to make pink whipped cream.
Put the rest of the whipped cream mixture in the chilled chocolate crust and spread evenly. Drop dallops of the pink cream around the surface of the pie and gently drag a knife or spoon back and forth over it to create a pink swirl effect.
Optional Step: Crush some sugar free peppermints (I used 6 Dr' John's xylitol peppermints). Place them in a ziploc and hit a few times with a kitchen hammer. I have one like this and use the flat side. Sprinkle the crushed candies over the surface of the pie.
Refrigerate until ready to serve, at least 2 hours.
You can find the ingredients needed for this recipe, as well as many other on plan baking products here on Amazon!