Sugar Free White Chocolate Truffles
Sugar Free White Chocolate Truffles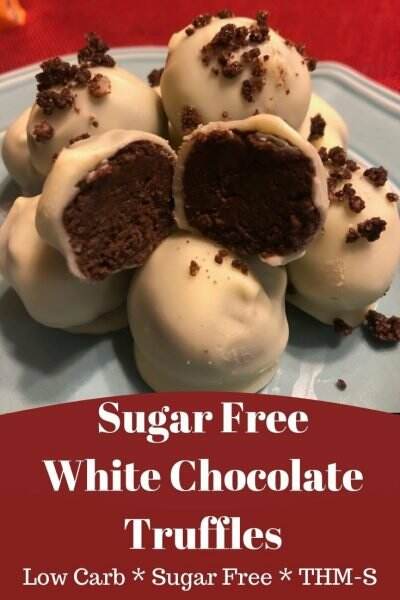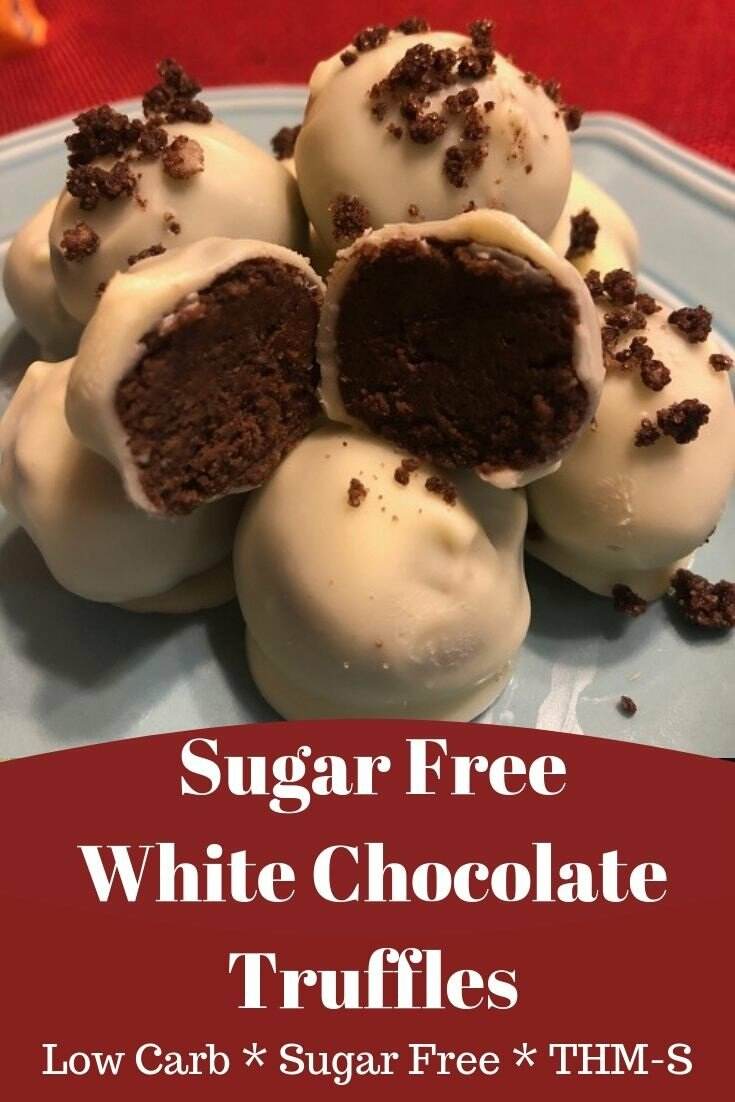 So, since we now have a sugar free chocolate available to us, I've updated my recipe sugar free white chocolate truffles. I did leave the original white chocolate instructions at the bottom of this post, but since I'm all about my recipes being as easy as possible, the main recipe will use the Bake Believe white chocolate chips. I feel like it turns out a little better this way as well. 
*Affiliate links may be included in this post. As an Amazon Associate, I earn from qualifying purchases. Please see full disclosure policy here.
These are meant to be like that recipe that uses Oreos and cream cheese. The same recipe I used for these chocolate ghosts. Except these are low carb and sugar free. They would be an "S" on Trim Healthy Mama. And this is what they look like inside.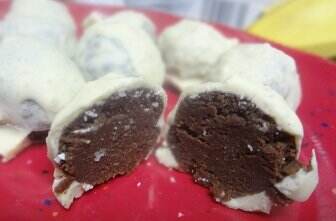 This recipe makes about 24 truffles.
Chocolate Filling
1 cup almond flour
3 TBSP cocoa powder (If you can swing it, black cocoa powder will make this even closer to the "Oreo" taste)

1/4 cup gentle sweet (find my homemade blend here)
1 TBSP butter, softened
4 oz cream cheese, softened
1 tsp vanilla
pinch of salt
For a peppermint truffle, add 1/2 tsp peppermint extract as well!
White Chocolate Coating

1 cup sugar free white chocolate chips (right now Bake Believe is the only company I know of that makes white chocolate chips)
2 tsp coconut oil (use a refined one like Louanna if you don't want a coconut taste)
Mix together all the almond flour, cream cheese, cocoa powder, butter, sweetener, vanilla and salt until it forms a dough.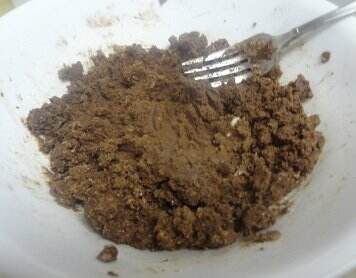 Roll the mixture into small walnut-sized balls and place on a cookie sheet lined with wax paper then place the tray in the freezer for at least an hour. Two or three would be better.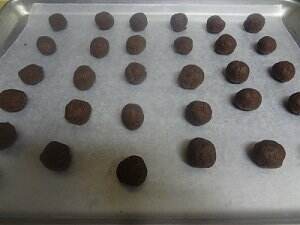 When you're ready to add the coating, put the white chocolate in a glass bowl set over a pot with water (unless you have a double boiler). Set the heat to medium low until the chips are melted then put it on low. It is tempting to set it higher so it melts faster, but if you do, the chocolate will overcook and start to dry more quickly than it would otherwise. By keeping it at low, it will stay at a stable texture for longer. If it does start to solidify, add in another tsp coconut oil. But it's best if you can avoid this.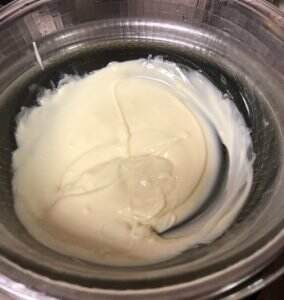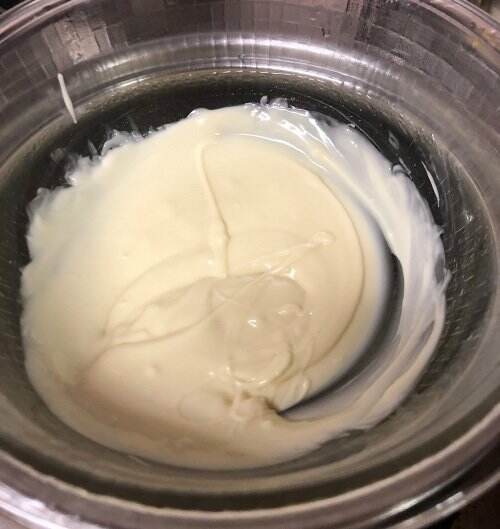 Once the chocolate is melted and ready for dipping, get the chocolate balls out of the freezer. Drop on in the chocolate and coat it as quickly as you can. Using a candy dipper (I have this set), quickly roll it around to coat the ball and lift out of the bowl and place back on the wax paper. The chocolate should cool and solidify within a few minutes.
They should be fine at room temperature for a little while, but they keep really well in the fridge.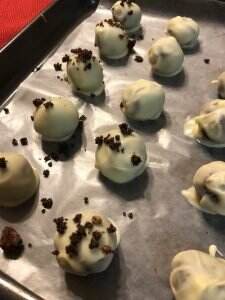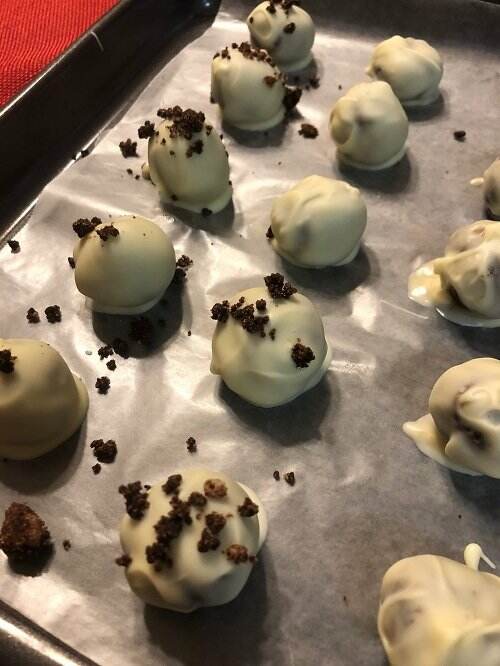 Alternative white chocolate coating
4 oz cocoa butter–you really need to measure on a kitchen scale
1/4 cup cream
sweetener to taste–This can be tricky. I used 1/4 cup gentle sweet substitute, but this caused the chocolate to end up slightly on the grainy side. I'm thinking stevia would work better for texture, but will taste more like stevia. If using stevia only, I'd try 1/16 tsp to start with.
*Note* I previously had protein powder instead of cream in the white chocolate mixture. Using cream and vanilla creme liquid stevia made the white chocolate a smoother texture.
Measure out the cocoa butter and chop into small chunks. The smaller the chunks the faster they will melt. Place them into a glass bowl that can be set into a metal pot with water.
Heat up the metal pot with the bowl inside until the cocoa butter is melted. Remove the bowl from the pot and add the cream and sweetener. Put it aside to cool and make the chocolate mixture.
Put the balls in the fridge until the white chocolate is ready. It should look and pour like melted white chocolate. You may even put it in the fridge for a few minutes to speed the process. But don't leave it too long, as you don't want it to solidify in the bowl.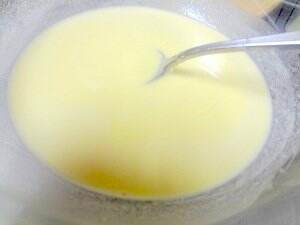 Using a spoon, pour the white chocolate over the cookie balls.The refrigerate overnight, or at least a couple hours. If you have "puddles" like in the pic below, you can trim after it hardens a bit and save the extras as white chocolate chips. Yum!