Sugar Free Chocolate Cookie Balls
Have you ever had those truffles made from Oreos and cream cheese? The same recipe I used for these chocolate ghosts. I decided to make some low carb Oreo balls.
These sugar free cookie balls would be an "S" on Trim Healthy Mama. You could also call them keto Oreo truffles, but my focus is recipes that fit the Trim Healthy Mama eating plan.
This is what the sugar free Oreo truffles look like inside.

*Affiliate links may be included in this post. As an Amazon Associate, I earn from qualifying purchases. Please see full disclosure policy here.
Low Carb Oreo Truffles Recipe
To get the best flavor, you want a good quality sugar free white chocolate like Lily's. You also want to use the black cocoa powder that gives cookies that Oreo flavor. However, you can use regular cocoa powder and they will still taste fine.
This recipe makes about 24 sugar free cookie balls.

Sugar Free Oreo Balls Filling
1 cup almond flour
3 TBSP cocoa powder (If you can swing it, black cocoa powder will make this even closer to the "Oreo" taste)
1/4 cup gentle sweet (find my homemade blend here)
1 TBSP butter, softened
4 oz cream cheese, softened
1 tsp vanilla
pinch of salt
For a peppermint truffle, add 1/2 tsp peppermint extract as well!
Sugar Free White Chocolate Coating

1 cup sugar free white chocolate chips
4 tsp coconut oil (use a refined one like if you don't want a coconut taste)
Mix together all the almond flour, cream cheese, cocoa powder, butter, sweetener, vanilla and salt until it forms a dough.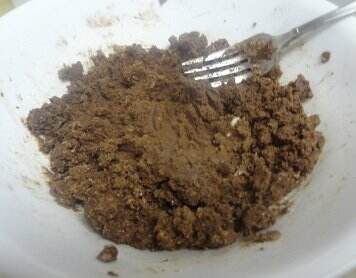 Roll the mixture into small walnut-sized balls and place on a cookie sheet lined with wax paper then place the tray in the freezer for at least an hour. Two or three would be better.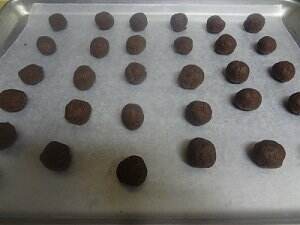 When you're ready to add the white chocolate coating, put the white chocolate and coconut oil in a double boiler set over a pot with water.
You want to make sure the water level is not high enough to touch the bottom of the double boiler, so make sure to get a pot that is not too shallow.
Set the heat to medium low until the chips are melted then put it on low.
It is tempting to set it higher so it melts faster, but if you do, the chocolate will overcook and start to dry more quickly than it would otherwise. By keeping it at low, it will stay at a stable texture for longer.
If it does start to solidify, add in another tsp coconut oil. But it's best if you can avoid this.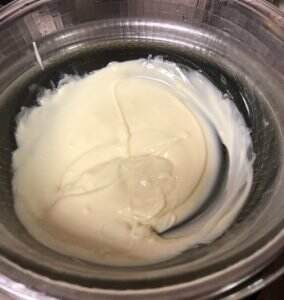 Once the chocolate is melted and ready for dipping, get the chocolate balls out of the freezer. Drop on in the chocolate and coat it as quickly as you can.
Using a candy dipper (I have this set), quickly roll it around to coat the ball and lift out of the bowl and place back on the wax paper. The chocolate should cool and solidify within a few minutes.
They should be fine at room temperature for a little while, but they keep really well in the fridge.