White Chocolate Oreo Ghosts
Chocolate Ghosts Halloween Treats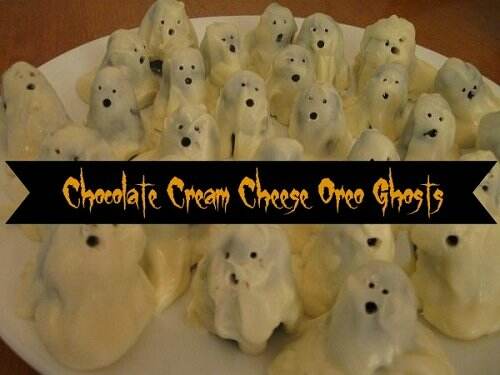 These chocolate ghosts are absolutely addicting. Very dangerous. Make them for your next Halloween party and they will be gone sooo fast! These can be made into regular "truffles" anytime of the year, but this is a fun Halloween twist!
Here's what you will need:
1 package of Oreo cookies (or other chocolate sandwich cookies)
8 oz package cream cheese
12 oz bag white chocolate chips
1 TBSP shortening
First, pulverize the sandwich cookies with a food chopper or processor until you have a lot of crumbs. Then beat together with the cream cheese. Chill the mixture about an hour.
Next, take about a tablespoon of the dough and roll it into an oblong ball (sort of like a thumb shape) and place on a cookie sheet lined with wax paper. This is a fun part for little kids like Cree to do! Do this until you run out of dough, then place them in the freezer for another hour.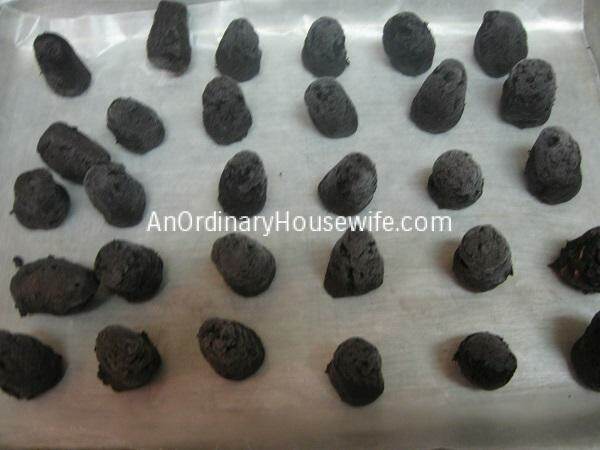 Meanwhile, in a double boiler, or bowl placed on a pot of boiling water, melt the chocolate chips and shortening.
Take spoonfuls and pour over the frozen dough shapes (Mom should do this part!). They will really start looking like ghosts at this point! The ghost should dry relatively quickly. Once they are, you can use a toothpick to make eyes and a mouth. I used a wooden skewer for the mouth to make it a little bigger than the eyes.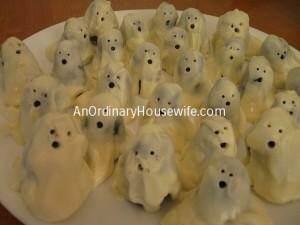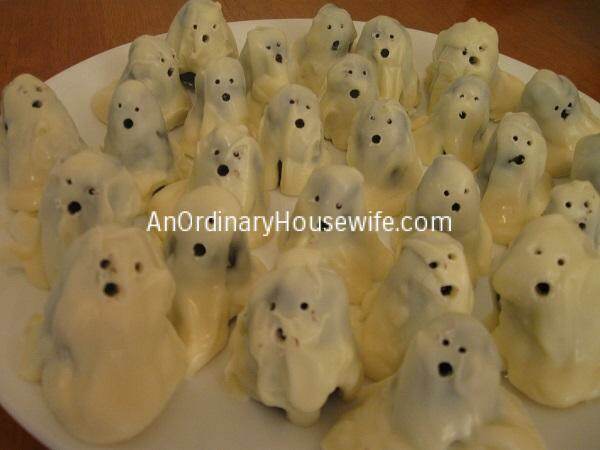 These chocolate ghosts are so incredibly delicious and would make a great addition to any Halloween party!
Save