Tasty Tuesday: Spanish Pork for Cuban Sandwiches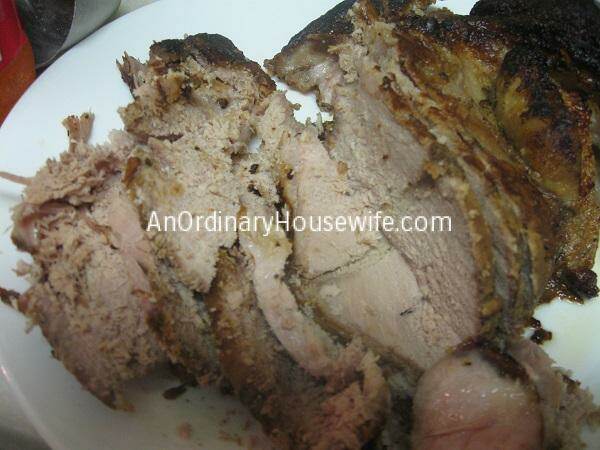 In my quest to make a Cuban sandwich for my husband, I've figured out I have to make some of the ingredients myself. Previously, I thought our biggest obstacle was finding Cuban bread, but I've since figured out that Spanish pork (like that used for Cuban sandwiches) is pretty hard to find in West Texas too. So after a search I found this recipe and I think this is about as close as we're going to get out here. DH thinks it's awesome and says I won't be able to replicate the processed stuff usually found the sandwiches since I'm using fresh ingredients.
Since I made this pork just for sandwiches, I only used a 2 1/2 lb pork roast, and that includes some fat. For the marinade I used:
9 cloves garlic
1/2 cup chopped onion
3/4 cup sour orange juice OR 1/2 cup regular orange juice + 1/4 cup lime juice (I actually used 16 True Orange packets in 1/2 cup water)
1/2 teaspoon oregano
1/2 teaspoon cumin, toasted and ground
1tsp salt
1/2 teaspoon black peppercorns
Grind everything in the blender about a minute, the pour over the pork in a large Ziploc bag or covered bowl and refrigerate overnight to marinate.
The next day, remove the pork from the marinade, pat dry with a towel and allow it to sit out about 30 minutes in the roasting pan. Pat dry again, and take a knife and make small cuts about an inch apart all over. Sprinkle generously with salt and rub it in.
Put the roast into an oven heated to 450 degrees and cook 15-20 minutes, until skin it brown and crackling, then lower to 325 degrees and cook about 2 hours, or until the meat thermometer read 170 degrees.
Allow to rest at least 15 minutes before slicing and serving. Serve with yellow rice or use to make Cuban sandwiches!