What Organization Can Do For You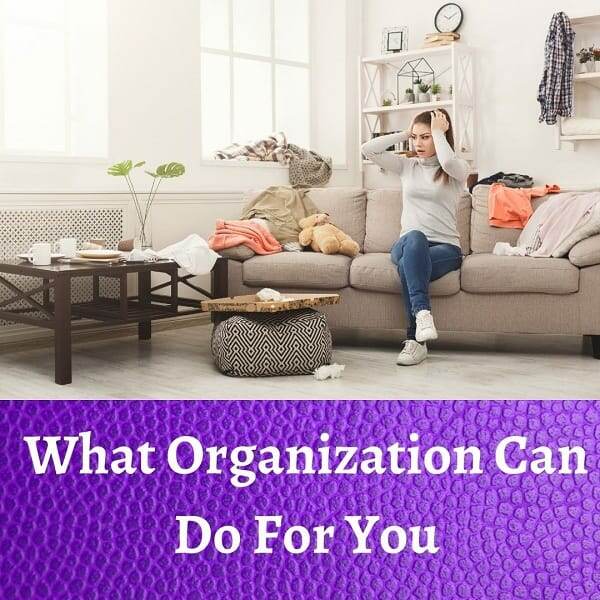 Life and home organization is something so many people struggle with. Before you ask how to get organized, you need to understand why home organization is important, and what it can do for you!
Hilary from Pulling Curls is here to share some insights on how getting organized can make your life easier.
*Affiliate links are included in this post. Please see full disclosure policy here.
Having an Organized Home is a lot more than pretty bins and baskets filling your heart with joy as you see the organized bliss. It's about a peace and comfort you have deep inside that the things you need are quick at hand.
Hi, I'm Hilary — I'm the curly head behind the website Pulling Curls. I'm a nurse and a believer that our houses can support us instead of the clutter controlling us. I'm the creator of The Organized Home where we clear the chaos and bring in the peace.
What Organization Can Do For You:
Increase Social Life
Ever wish you could just have someone over for drinks, or dinner without feeling like you had 400 hours of work to do before your house would even START to be presentable.
If you have organization systems that work, your house can quickly be brought back into shape and you can have it cleaned-up in NO time. Then, you can sit back, relax and make a new friend!
Stop Losing It
The keys, the library books, and the dreaded note you need to get back to your kid's teacher. All of those things can have a spot that you know RIGHT where they go and they're always there when you need them.
I used to sit awake at night and wonder where my keys were (and this is back before car keys cost as much as the engine). It's not a good feeling, and I don't want anyone to have to feel that.
RELAX
Do you ever wonder how people can seem to have so much carefree time to watch Netflix's latest crime mystery? How can they get so into a hotel drowning when you have so. Much. on your plate?
It's because everything is faster, your home is more peaceful and worry doesn't always have a seat at your brain table. You can sit down and just enjoy Bridgerton, Gillmore Girls or yes, the latest crime drama du jour.

What organizing won't do:
While we're at it — I want to bust some myths about what organizing WON'T do:
Make you go broke: Baskets and bins are just the pretty on top of great systems. I often use Amazon boxes til I find a basket or bin that works (often at the dollar store)
Magically Happen: Yes, organizing gets easier along the way, but there are always going to be moments when you pull everything out and realize you'd rather throw it on a bonfire than organize it — this is totally normal!
---
Having an organized home takes time, but you start to see benefits very quickly. As you move through your home, you're going to start to create systems that REALLY work, and you will realize that while a system works in the kitchen, it may also work in the bedroom (just with scarves instead of bags of chips).
You're going to become an expert, and each step goes a little faster.
You really just have to take those first few steps hoping that it really will start to make a difference.
I'd love to help you out in The Organized Home. We walk room by room through your home giving you tips and ideas to make changes. Each section includes:
Decluttering tips specific to the items most often found in that room
Ideas on how to zone each room
Video sections of organization systems that work (on a budget) that will give you ideas to make work at your own house
Challenges & assignments to get you goin and keep you accountable
You can join for just a month or two (no obligation to stay) or take the big jump in for a full year so we can get you started on creating systems you love!
Want more? Check out Hilary's podcast on why having an organized bedroom is important! It's only about 5 minutes and you just might get inspired!