Sour Cream and Onion Potato Soup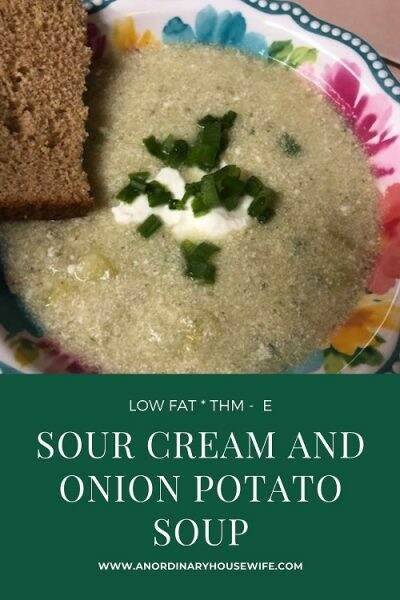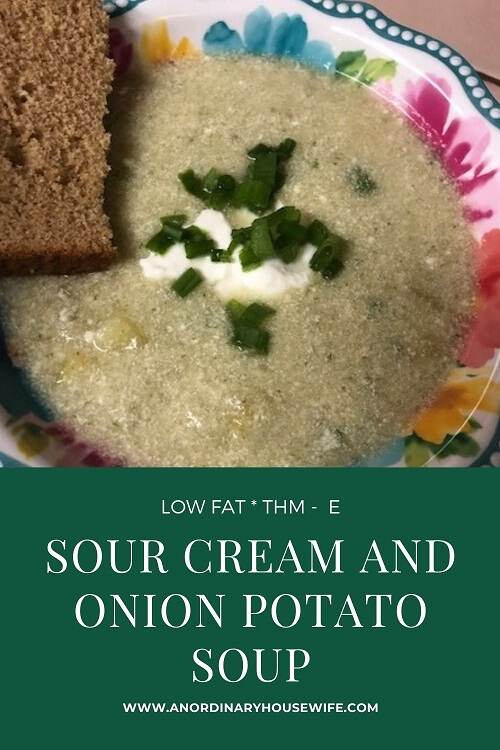 I love potatoes and we're still getting cold weather here, so this low fat potato soup really hits the spot for lunch on those cold days! And this can be had as an E on Trim Healthy Mama.
My mom used to make a potato soup when I was kid that I really liked. I vaguely remember it having potatoes, milk, maybe some sour cream and maybe some ranch seasoning.
*Affiliate links may be included in this post. As an Amazon Associate, I earn from qualifying purchases. Please see full disclosure policy here.
This is far from a replica of that, but more like inspired by it. This sour cream and onion potato soup has a serving of veggies and makes one large, generous sized bowl or 2 smaller servings. I can't eat it all myself in one sitting, so my daughter usually shares it with me.
I don't have a lot of time to fuss with lunch during the week, so I consider this pretty "drive thru sue" friendly, though there is a little bit of cooking and blending involved. Still, it can typically be done in about 10 minutes, so really not long at all.
Can I Have Potatoes on Trim Healthy Mama?
For the longest time since the Trim Healthy Mama eating plan first came out, white potatoes were considered to be an occasional treat kind of food, but not ideal for regular consumption.
While this is still the case for russet potatoes, Pearl and Serene have recently loosened their stance on other potatoes, which have a lower glycemic load than russet potatoes. The latest cookbook of THM recipes, Trim Healthy Future actually has a few recipes featuring potatoes.
I was really glad about this change because I love potatoes in pretty much any form and potatoes actually have a lot of health benefits.
Which Potatoes Are On Plan on Trim Healthy Mama?
Any potatoes with waxy skins are on plan. Golden and red skinned potatoes are readily available in most grocery stores and since the skins are so thin, I love that I don't have to peel them.
If you've seen the 1.5-2 lb bags of small potatoes that have small red, yellow and purple potatoes, those are also on plan.
If you're able to find canned golden potatoes, they are great to have on hand for easy potato based meals. But if not, you can bake or steam fresh golden potatoes to cook them without adding any fat.
Now, while incorporating more potatoes into your diet might be ok, they are still starchy, so you should not go crazy and just fill up on potatoes. One medium waxy skinned potato (about a cup chopped up) is a sufficient serving size.
You need to make sure you are getting enough protein and non starchy veggies. You also want to limit the fat if you're going for a Trim healthy Mama E meal.
That's why this cauliflower potato soup has ground up cauliflower instead of excessive potatoes or heavy cream. You get the creaminess plus the added benefit of a veggie, but without overdosing on carbs.
Sour Cream and Onion Low Fat Potato Soup
8 oz frozen cauliflower
2 cups chicken broth
1 small cooked red or yellow potato (or 3/4 cup canned diced golden potato, drained and rinsed)
1/4 cup fat free Greek yogurt
1 tsp parsley
1/2 tsp garlic powder
1/2 tsp dried minced onion
1/4 tsp salt
1 scoop collagen (optional)
1 finely chopped green onion, green part only
Note: If you happen to have pre-made ranch seasoning on hand, you can replace the spices with 2-2 1/4 teaspoons of that. There are recipes in the Trim Healthy Mama cookbook and Online. Or you can buy one that doesn't have any fillers.
First, if not using canned golden potatoes, cook your potato. Boil, steam or microwave it. The way I usually do it is give the potato a few stabs with a fork, on every side, wrap with a damp paper towel and cook for 4-5 minutes in the microwave.
Meanwhile, put the chicken broth and frozen cauliflower in a 2 quart sauce pan, cover, and cook on medium high and let it simmer about 4 minutes, or until the cauliflower can be pierced with a fork.
Put the cooked cauliflower and at least half the broth into the blender and blend until completely pureed. You may have to stop a few times to allow it to vent if you don't have a high powered blender.
Return the pureed cauliflower to the sauce pan . Add the potato, diced into bite sized pieces, the Greek yogurt, spices, collagen (if using) and green onion.
Stir it all together and it's ready to serve!
There is basically no fat in this soup, so if you want to have a teaspoon of butter on a small slice of sprouted bread (I like 1/2 a slice of Pepperidge Farm sprouted), or add a tablespoon of bacon bits or low fat cheddar to your soup, you've got room to do that and still keep it in E mode on Trim Healthy Mama!
Ground beef that's been drained and rinsed under very hot water might be another good addition.
If you're looking for something a little heartier, try my white chicken chili!