Low Carb Christmas Tree Snack Cakes
Someone recently mentioned needing a recipe for low carb for Christmas tree snack cakes, so I decided to experiment in the kitchen and I have to say that I am very happy with the results!
My family also approved. My husband called it "culinary witchcraft" and my oldest said "it was the best thing she ever tasted. They're probably exaggerating a bit, but that still gives you an idea of how good these are!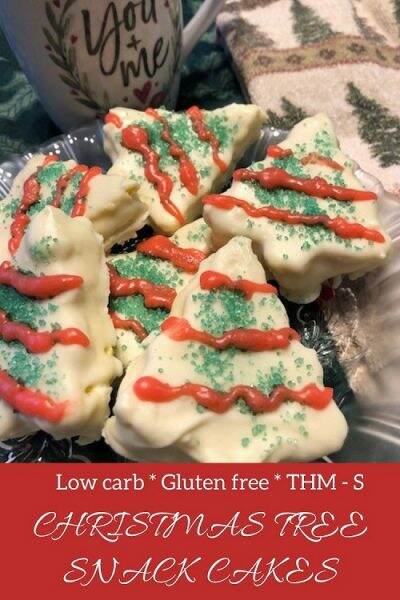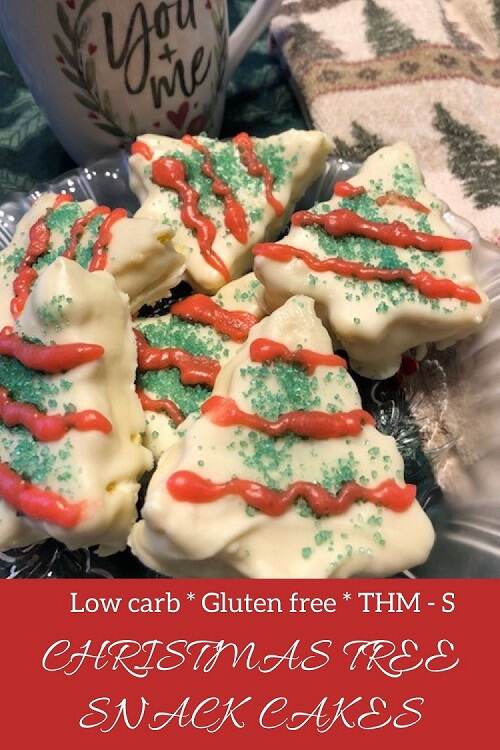 *Affiliate links may be included in this post. As an Amazon Associate, I earn from qualifying purchases. Please see full disclosure policy here.
If you are following Trim Healthy Mama or otherwise low glycemic diet and you are likely to be derailed by those Little Debbie Christmas tree cakes that come out around this time of the year, these keto Little Debbie Christmas Tree snack cakes are something you're going to want to try out!
The cake batter I used is pretty much the same as my tres leches cake recipe, except it has a little less baking blend and is spread thin. The cream filling is the same as the filling the Mostess cupcakes from the Trim Healthy Table cookbook. The coating is Lily's white chocolate chips, but you can also use Bake Believe or ChocZero if you prefer.
Just like the tres leches cake, separating the egg whites is important. It gives the cake a better texture, more like "real" cake.
I also have a low carb petit fours recipe!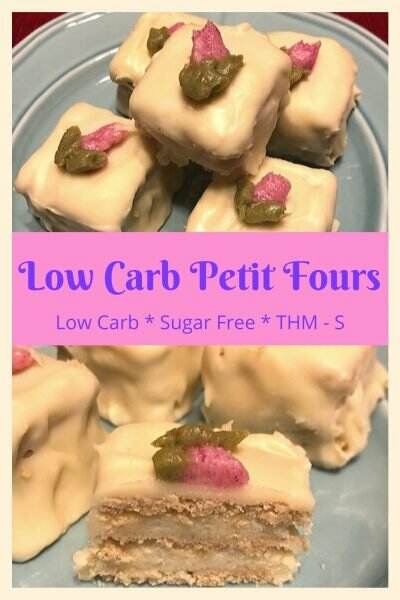 Vanilla Cake Layer
3 eggs, separated
1/4 cup gentle sweet (or my DIY version)
3 tbsp almond milk
1 tsp vanilla
1/3 cup baking blend
1/2 tsp baking powder
1/8 tsp salt
Cream Filling
1 1/4 tsp gelatin
1 TBSP cool water, plus 2 TBSP boiling water
3/4 cup heavy cream
1 TBSP gentle sweet (or my DIY version)
1/2 tsp vanilla
White Chocolate Coating
2 cups Sugar Free white chocolate chips
4 tsp refined coconut oil
Cake Instructions
Preheat your oven to 350 degrees.
Separate the egg whites and yolks into 2 separate mixing bowls.
Add the Gentle Sweet, almond milk and vanilla to the bowl with the yolks and beat together.
Add the baking blend, baking powder and salt and stir in by hand until completely incorporated.
Set aside.
Beat the egg whites with the whisk attachment on high 3-4 minutes until stiff peaks form.
Fold the beaten egg whites into the egg yolk mixture and continue folding in the egg whites until they are thoroughly incorporated. Make sure there are no spots of egg whites and none of the heavier part of the batter is "hiding" in the bottom of the bowl. The batter should be a uniform color and texture.
Line a jelly roll pan with parchment paper and grease the parchment with butter, then pour the batter into the buttered pan and spread evenly with a spatula.
Bake 10-15 minutes. Mine was done in 10, but I live at a higher altitude and stuff tends to cook faster in my oven. It should be a pale golden yellow.
While it is cooling, use a Christmas tree cookie cutter to cut the cake into Christmas tree shapes. You can use other shapes if you want, but I used a Christmas tree because I was trying to imitate the Christmas tree snack cakes. 3 inch cookies are best to keep it relatively easy to work with.
Cut them as close as possible so you get the most out of your cake. Once it is cool, peel the excess cake away.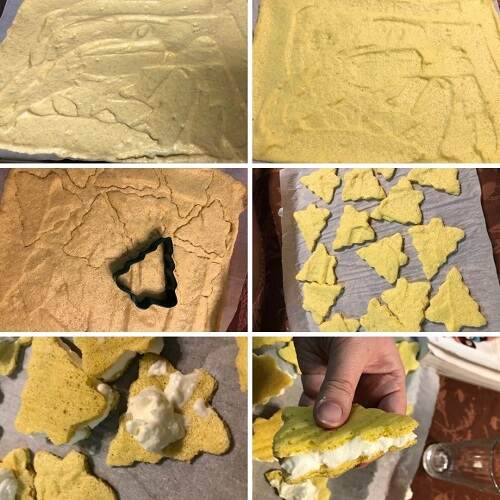 Cream Filling Instructions
Put 1 TBSP cool water in a small dish and sprinkle the gelatin on top. Stir until dissolved and gelatinous.
Heat up 1/4 cup water for 1 minute in the microwave, or bring to a boil over the stove. Add 2 TBSP of boiled water into the gelatin mixture. Allow to cool to room temperature.
Add cream, sweetener and vanilla to a mixing bowl with a whisk attachment. Beat the cream on high until soft peaks start to form. Add the cooled gelatin mixture and scrape down the bowl to make sure all the cream is getting beaten.
Beat until stiff peaks start to form.
Put cream filling into a disposable piping bag (even a quart sized Ziploc bag would probably work. Cut a hole about 1/4 inch wide into the corner.
Pipe filling onto one cake layer and place another cake layer on top. Pipe the filling along the edges to make it even with the cake layer (as pictured above).
Place the cakes in the freezer for a couple of hours or overnight, even a few days ahead of time if you like.
Sugar Free White Chocolate Coating
When you are ready to add the coating, melt 1 cup of the chocolate chips along with a 2 tsp of the coconut oil in a double boiler on medium low heat until the chocolate is melted and smooth. Be patient and let it heat up slowly, or your chocolate will dry out faster.
Line a cookie sheet or a couple of dinner plates with wax paper.
Place one of the cakes on a fork or better yet, a chocolate dipping tool, and using a spoon to scoop and pour the chocolate over the cake. I highly recommend this chocolate dipping set.
I used the cradling spoon for this task and the conclave center made it much less likely for the cake to fall off into the chocolate. You must be extra careful if you decide to use a fork.
Tilt the cake slightly to make sure the top and all the edges are coated. With a knife, gently ease the cake onto the wax paper to cool.
As the chocolate gets used up, add more chocolate chips, adding 1 tsp coconut oil for each 1/2 cup of chocolate. Allow the chocolate to fully melt before resuming the dipping process.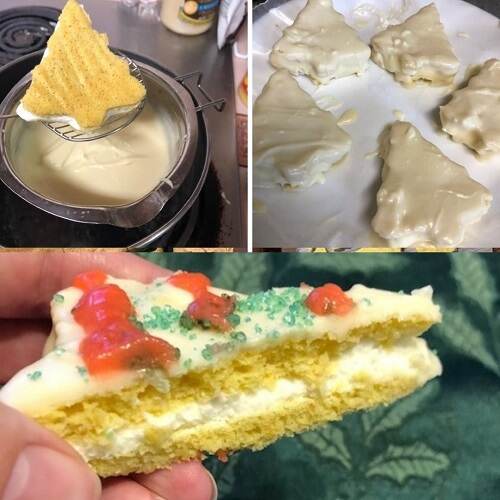 Decorating the Christmas Tree Snack Cakes
For colored "sugar" add a few drops of food coloring to some granulated xylitol. I like a bigger grain (like I just posted) for sprinkles. Make sure to sprinkle onto the chocolate before it has completely dried.
For icing stripes, mix 1/4 cup of powdered xylitol or powdered Swerve with 2 tsp water and a few drops of food coloring. Basically you want just enough water to make it spreadable but not too runny. It should look like melted chocolate. Put it in a piping bag or ziploc bag with a small hole cut in it. You can get powdered xylitol by putting it in the blender.
You can also add green food coloring to the white chocolate before dipping. Use matcha powder if you want a more natural option.
You can also add premade sugar free sprinkles. Again, these should be added before the chocolate coating is completely dry.
These are best kept in the fridge until ready to eat. Sitting out for a bit won't hurt them, but they will be easier to handle if they're chilled, especially if you want to hold them in your hand to eat them.
I got about 9 cakes out of this recipe. How many you get will depend on how thin you spread the cake batter and the size of your cookie cutter.
They are a bit of work, so if you decide to hoard them for yourself to get you through the holiday season, I won't hold it against you!
If you try them, let me know your thoughts in the comments!
Need something a little easier to use the sugar free white chocolate chips for? Try these white chocolate truffles! They taste like the ones made with Oreos and cream cheese!