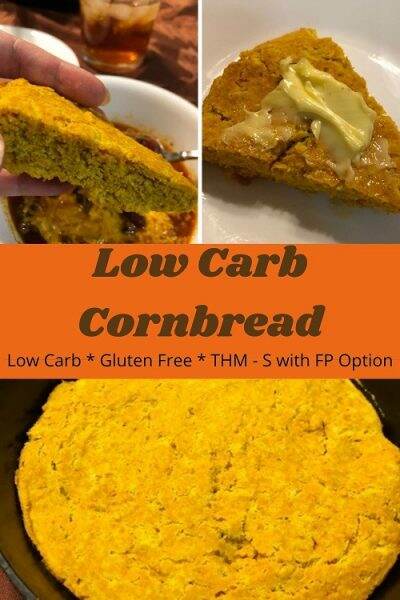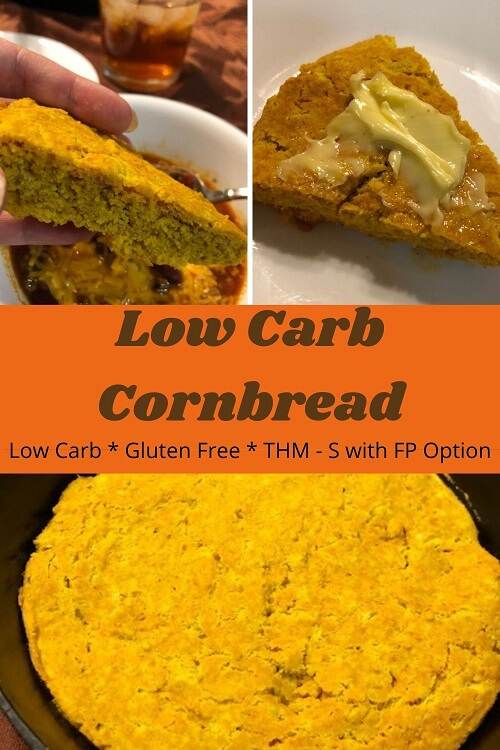 If you're looking for a low carb cornbread recipe, look no further! This cornbread is the perfect accompaniment to your S soup or chili, especially served with a pat of salted Kerrygold butter.
*Affiliate links may be included in this post. As an Amazon Associate, I earn from qualifying purchases. Please see full disclosure policy here.
This recipe is sort of inspired by the guilt be gone cranberry pie from Trim Healthy Mama, but of course this is a savory recipe and I've replaced the oat fiber with baking blend and corn masa and added some water to make up for the loss of moisture provided by the berries in the cranberry pie recipe.
A note about Corn masa: Corn masa flour, which has been treated with lime, has a lower glycemic impact than regular cornmeal. It can be used in small amounts on plan with Trim Healthy Mama. Make sure to look for lime in the ingredients. This is the brand I use, but you can likely find it cheaper at your grocery store.
This recipe can be made as an S on the Trim Healthy Mama eating plan, which is how I prefer it. But it can also be used as a Fuel Pull with a couple of minor tweaks. This recipe can also be used in place of the bread base in my low carb classic stuffing recipe.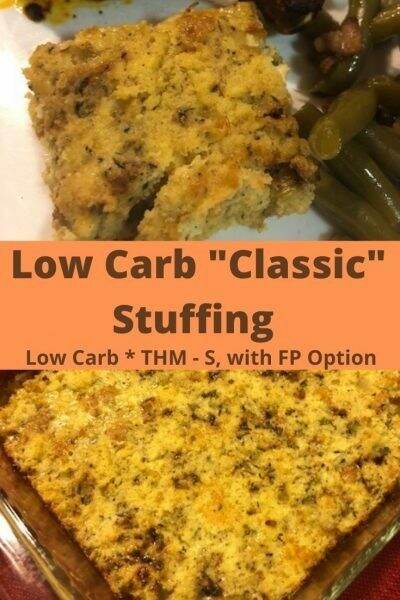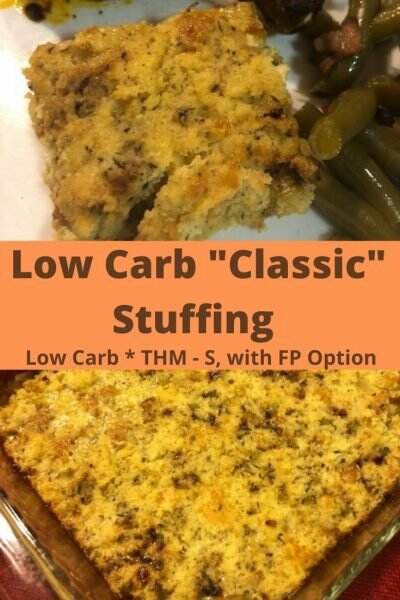 There are 22 net carbs from the corn masa in the entire recipe and about 3 in the baking blend. 1/8 of the pan will be about 3 net carbs and 1/6 will be about 4 net carbs. Just be mindful of this if you're having it with a meal including another carb source, such as beans or carrots, or you might find yourself edging into crossover or at least S helper territory.
Low Carb Corn Bread Recipe
1/2 cup baking blend
1/4 cup corn masa
3 eggs (or 3/4 cup egg whites for FP)
1/3 cup water
3 TBSP softened butter (or 3 TBSP non fat Greek yogurt for FP)
1/2 tsp Gentle Sweet or Pyure
1/4 tsp guar or xanthan gum
1 tsp baking powder
1 tsp tumeric (optional, for color)
1/2 tsp salt
Preheat oven to 350 and grease a 8 inch cast iron skillet with butter. You can use a square or pie dish, but I firmly believe a cast iron skillet is best for making corn bread!
Mix all the ingredients together and pour in the skillet. Spread evenly.
Bake 15-20 minutes until lightly golden.
Cut into 6-10 servings and enjoy with a pat of butter.
My favorite meal to serve this with is my instant pot chili. I keep my cornbread to 1/8 of the recipe and beans to about 1/4 cup or so for an S helper. For info on S helpers, see the Trim Healthy Mama plan book.