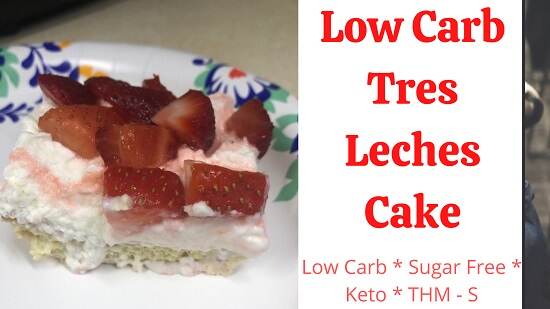 I live in west Texas and tres leches cake is a pretty popular dessert around here! I've made regular tres leches cakes a few times in the past and it occurred to me that beating the egg whites separately is what gave the cake a lot of its volume. I decided to use this information to make a low carb tres leches cake.
*Affiliate links may be included in this post. As an Amazon Associate, I earn from qualifying purchases. Please see full disclosure policy here.
I've seen a few low carb keto tres leches cakes around but none of the ones I've come across instruct you to separate the eggs. I personally think this makes a difference in the texture.
After a bit of experimentation, I bravely decided to take this low carb tres leches cake to a get together. I was a little nervous about taking something new, but I was pretty confident it was done well.
It. Was. Amazing. My sugar free tres leches cake got several compliments and a few raised eyebrows when I said it was "sugar free." I was surprised (and relieved) that it turned out so well. The cake soaked up the milks just right.
For those following the Trim Healthy Mama plan, this would be a Trim Healthy Mama S dessert.
Regular tres leches cake uses sweetened condensed milk, evaporated milk and cream or regular milk. Most of these are not on plan on Trim Healthy Mama or keto.
For the sweetened condensed milk I used a half recipe of the 7 minute sweetened condensed milk recipe from Nana's Little Kitchen. Since I only did a half recipe, I did not need to cook it as long.
Instead of evaporated milk I used heavy cream and then for the last little bit I used lactose free milk, but you can use almond milk or more heavy cream instead.
Separating the eggs is important! It will make the cake more spongy and less dense and you need the spongy texture to absorb the liquids properly.
This recipe is for an 8×8 pan pan, for approximately 9 servings.
Like this recipe? Pin it for later!
Tres Leches Cake Ingredients
3 eggs, separated
1/4 cup gentle sweet (or my DIY version)
3 tbsp almond milk
1 tsp vanilla
1/2 cup baking blend
3/4 tsp baking powder
1/8 tsp salt
Tres Leches (3 Milks) Mixture
3/4 cup cream
1/4 cup almond milk
Sugar Free Sweetened condensed milk (below)
Sugar Free Sweetened Condensed Milk Ingredients

5 oz heavy cream
3 tbsp gentle sweet
1/8 tsp salt
For the full recipe on Nana's Little Kitchen cooking time is 3 minutes, 3 minutes, 1 minute. If you're only doing the half recipe required for this recipe, only do it 2 minutes, 2 minutes, 1 minute. Otherwise it might overcook.
Sugar Free Whipped Cream
3/4 cup cream
2 TBSP Gentle Sweet (or equivalent)
1 tsp vanilla
For the Cake
Preheat your oven to 350 degrees.
Separate the egg whites and yolks into 2 separate mixing bowls.
Add 3 TBSP Gentle Sweet, almond milk and vanilla to the bowl with the yolks and beat together.
Add the baking blend, baking powder and salt and stir in by hand until completely incorporated.
Set aside.
Add 1 TBSP Gentle Sweet to the bowl with egg whites and beat on high 3-4 minutes until stiff peaks form.
Fold the beaten egg whites into the egg yolk mixture and continue folding in the egg whites until they are thoroughly incorporated. Make sure there are no spots of egg whites and none of the heavier part of the batter is "hiding" in the bottom of the bowl. The batter should be a uniform color and texture.
Grease an 8×8 pan well with butter (I used a glass pan), then pour the batter into the buttered pan and spread evenly with a spatula.
Bake 20-30 minutes. Mine was done in 20, but I live at a higher altitude and stuff tends to cook faster in my oven. It should be a dark golden yellow and a toothpick should come out clean.
Allow the cake to cool about 30 minutes and poke multiple holes in the cake with a skewer, thin knife or even a fork.
Low Carb Tres Leches Mixture
Meanwhile, mix together the "low carb sweetened condensed milk," heavy cream and almond, cashew or lactose free milk.
Pour the mixture evenly onto the cake and allow it to sit and absorb the liquid for a while. You can stick it in the fridge about 30 minutes or so.
Sugar Free Whipped Cream
Meanwhile, make the whipped cream. Beat together the heavy cream, sweetener and vanilla on high until fluffy. Do not over-beat, or you will get butter!
Spread evenly on the chilled cake. Cover and return to the refrigerator until ready to serve, preferably overnight. For best results, wait until soon before serving to add the berries or other fruits on top.
For those following the Trim Healthy Mama plan, stick to berries and kiwis to keep this in S mode. You can serve other fruits with it if you like, but those will make it a crossover (XO). I personally love it with chopped strawberries!
These sugar free coconut bon bons are another recipe I like to the low carb sweetened condensed milk for!