White Chicken Chili (THM – E)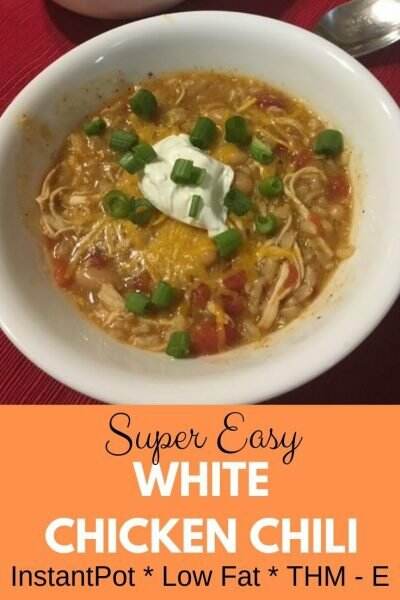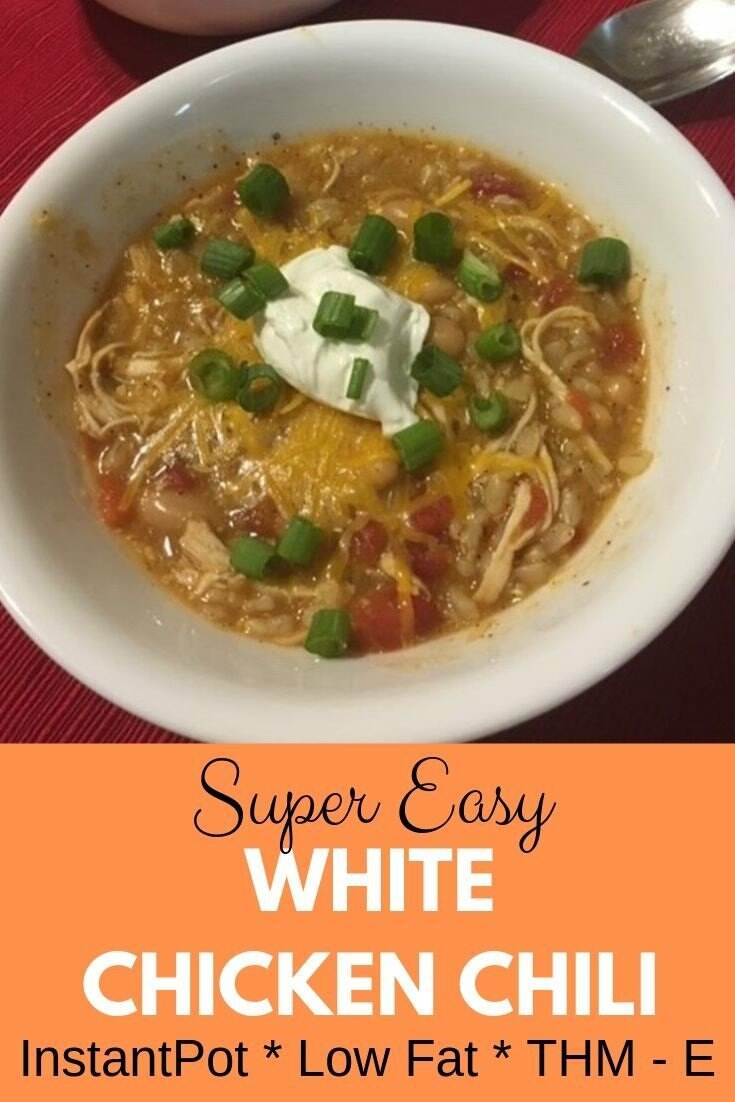 It's fall again which means it's time for soups and stews! So I thought I'd share this super-easy white chicken chili recipe. If you have an InstantPot (which I highly recommend), you can have this done in an hour. If you have a slow cooker, you'll want to cook it at least 8 hours, but the ingredients are super easy to throw in. This is a true "drive thru Sue" meal for the Trim Healthy Mama!
*Affiliate links may be included in this post. Please see full disclosure policy here.
You may notice this recipe has some similarities to the "Creamy Verde Chicken Chili" in the Trim Healthy Table cookbook. This recipe was sort of inspired by that one, but this one is an E where that one is an S. I used brown rice instead of cauli-rice and no cream cheese. This recipe also doesn't require any blending or additional spices, because, well, I was feeling lazy when I made this and it still tasted perfectly fine and flavorful to me. And the family liked it too, which is another important test of a successful recipe!
Another perk of this recipe is that it's pretty budget friendly. Beans, rice and 2 chicken breast for a recipe for 8 people.
White Chicken Chili
(serves 8)
2 large-ish boneless, skinless chicken breasts (about 1 1/2 lb) thawed if frozen *You can also use a couple 12 oz cans of chicken breast if shredding the chicken at the end is still too much work for you.
1 16 oz jar (2 cups) green
salsa
2 10 oz cans rotel style tomatoes
2 15 oz cans canelini or navy beans, drained
1 1/2 cup dry brown rice
1 quart (4 cups) chicken broth
Add all the ingredients to the
InstantPot
and select the "poultry" setting and cook for 45 minutes. Or use the slow cooker and cook on low for 8 hours. Then, shred the chicken breast with two forks and stir. Yes, that's it. Like I said, super easy!
Add a dollop of plain fat free Greek yogurt, 1 TBSP low fat shredded cheddar and a sprinkle of chopped green onions if desired.
Optional variation: As I said earlier, I didn't really feel like dirtying up the blender for this, but if you wanted to add 1 1/2 cups blended frozen okra as they do in the other recipe, that is certainly an option. Just blend it up with 2 cups of the broth until smooth before adding it to the pot. If you wanted the "creaminess" of the cream cheese without all the fat, try adding 6 wedges Laughing Cow pepper jack cheese (make sure it's the kind with 1.5g fat per wedge) to the blender as well. This is what I do for my Fuel Pull Creamy Chicken Enchiladas with good results!