Creamy Chicken Enchiladas
Creamy Low Carb Chicken Enchiladas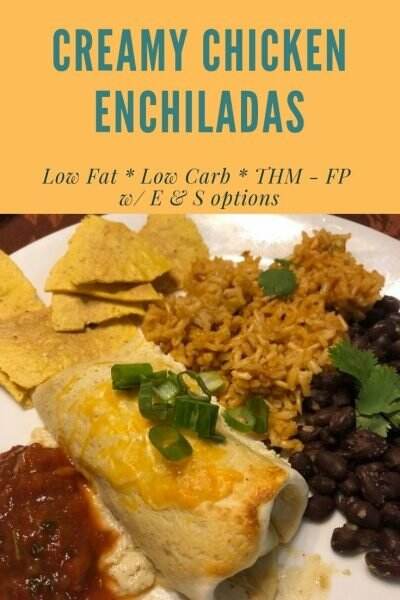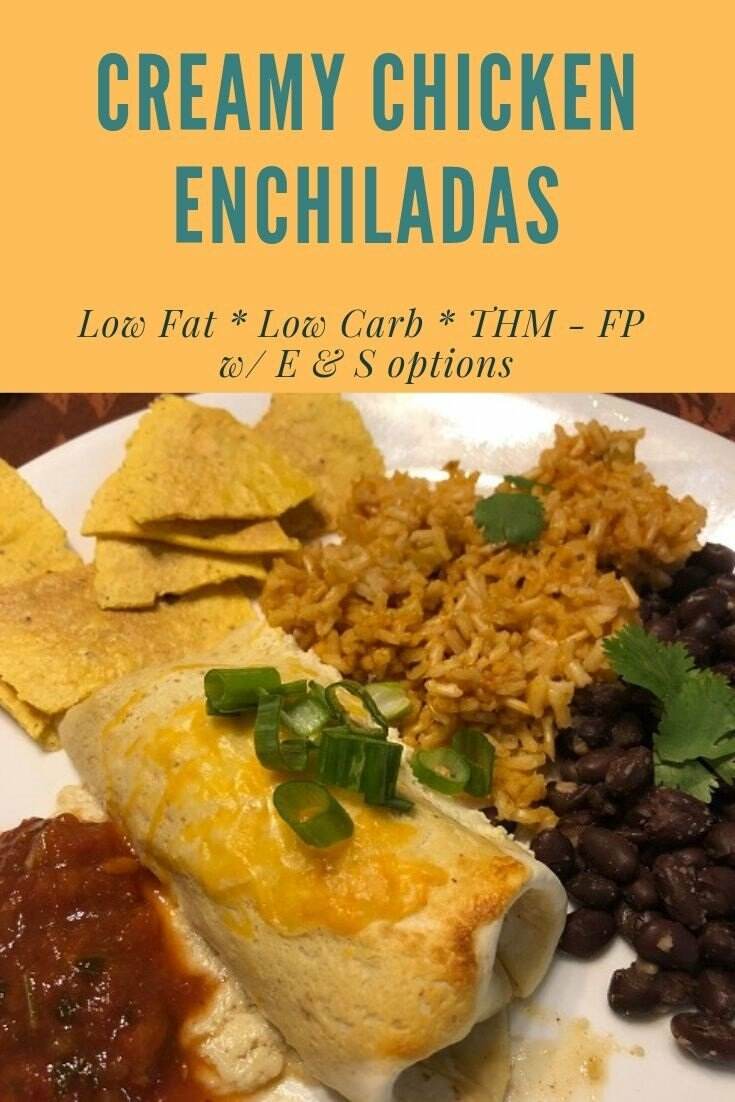 Who loves enchiladas? I know I do! It's a taste I've developed since moving to west Texas 8 years ago. My favorite kind is sour cream chicken enchiladas. There are delicious recipes available online that are compatible with Trim Healthy Mama, but all the recipes I've seen for those are "S" meals, and I wanted a Fuel Pull option that could be served as an E for folks who like beans and rice with their enchiladas. If you're not familiar with Trim Healthy Mama and have no idea what "E's," "S's" and "FP's" are, you can read more about it here. Even if you're not following Trim Healthy Mama, this is still a great recipe!
*Affiliate links may be included in this post. Please see full disclosure policy here.
I'm all about quick and easy, so I use canned chicken breast and store bought low carb tortillas, but the THM wonder wraps are probably a better choice if you can manage it. You can also use red salsa if you prefer, but I like the green.
2 10 oz cans chicken breast (or 2 1/2 cups cooked chicken breast)
3/4 cup green salsa
1 TBSP taco seasoning (or 1 tsp each onion powder, cumin, chili powder and 1/2 tsp garlic)
1 tsp salt
6 wedges Laughing Cow pepper jack cheese (make sure it's the kind with 1.5g fat per wedge)
1/2 cup fat free Greek yogurt (I use the Fage brand)
1 cup chicken broth
1/4 cup green salsa
1/2 cup 2% shredded cheese *The kind I use is only 5g fat for 1/4 cup and we'll only use 1 TBSP of that per serving. Sharp cheddar gives the most flavor for the amount, but you can use something else if you prefer.
First, make the sauce. In a blender, place the fat free Greek yogurt, chicken broth, 1/4 cup of the green salsa and 6 wedges of low fat Laughing Cow cheese. Blend about a minute, until it makes a creamy sauce.
In a medium bowl, mix the chicken, 3/4 cup of the green salsa, taco seasoning, salt and 1/2 cup of the creamy sauce until all the chicken is coated.
Using a 1/4 measuring cup, scoop a rounded 1/4 cup (about 5 TBSPs) into each tortilla. Fold the tortilla, tucking the ends in and place seam side down in a 9×13 baking dish or quarter baking sheet, so it stays closed.

At this point, you may put aside 1/2 cup of the sauce in a small glass bowl. Heat it in the microwave for 30 seconds right before serving and it makes a great queso for your chip-dipping family members! Oh, and it's fuel pull!
Pour the remaining sauce evenly over the enchiladas and spread evenly. Top each enchilada with 1 TBSP of 2% shredded cheese and bake about 20-25 minutes at 350.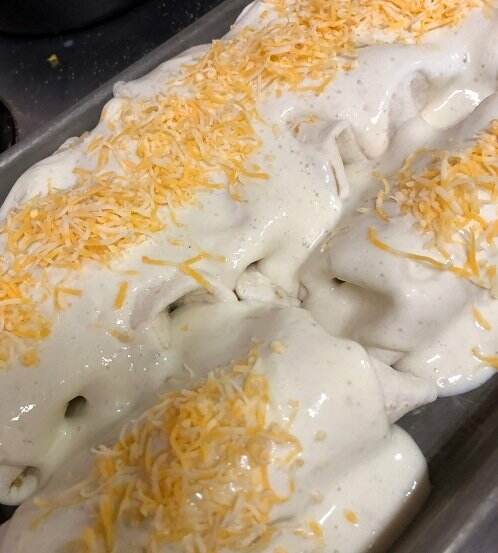 These enchiladas are a fuel pull as written, but you can make the following changes if you like:
For beef enchiladas, use 96% lean ground beef, or regular ground beef drained and rinsed with very hot water, to keep this E or FP. Use red salsa instead of green.
For E, use sprouted corn tortillas and serve with beans and rice.
For S, use any kind of chicken (dark or white meat) or ground beef and serve with regular fat cheese and guacamole.
Please note I did use the smaller "fajita size" low carb tortillas that are 4 net carbs apiece and are about 6 inches in diameter. If you want to use the larger "taco size" tortillas that are 6 net carbs, increase chicken to 3 cans, or 3 1/2 cups shredded and add 3/4 cup of the sauce and an extra tsp seasoning to the chicken mixture before wrapping in the tortillas. You will add about 1/2 cup of the filling to each tortilla. No need to make more sauce. There will still be enough. You probably just won't have any left over for queso this way.
Why might you want to do this? Because you shouldn't have more than 6 net carbs of "frankenfoods" (THM for personal choice items with less than stellar ingredients) like low carb tortillas. Two of the smaller tortillas would be 8 net carbs, so you should still only have one (or one and a half). Or you can do like I do and just scrape the meat filling out of a second enchilada. It's still really good!
If you want to make the wonder wraps instead of store-bought tortillas, you can have a second with no worries, as those are not "frankenfoods" and have a lower carb count. You can find recipes for wonder wraps in both the first Trim Healthy Mama Cookbook and Trim Healthy Table. Also, if you are using the sprouted corn tortillas for an E, you can have 2 enchiladas and still be around the 5g fat mark.
I hope your family enjoys these as much as mine did! Please let me know in the comments!
Homemade Taco Seasoning Recipe
2 TBSP Onion powder
2 TBSP Chili powder
2 TBSP ground cumin
1 TBSP garlic powder
Mix together and store in a container. I like these.