No-Bake Peaches and Cream Pie (THM-E)
No Bake Low Fat Peaches and Cream Pie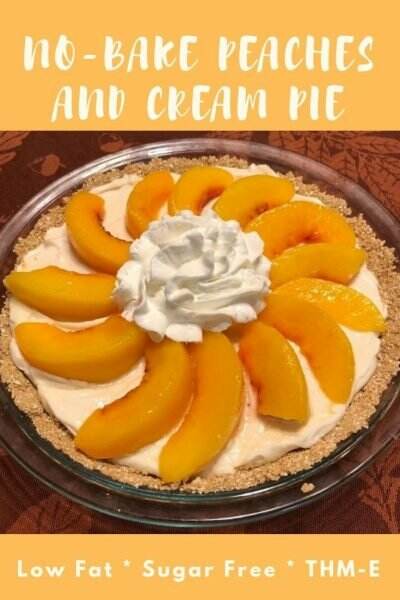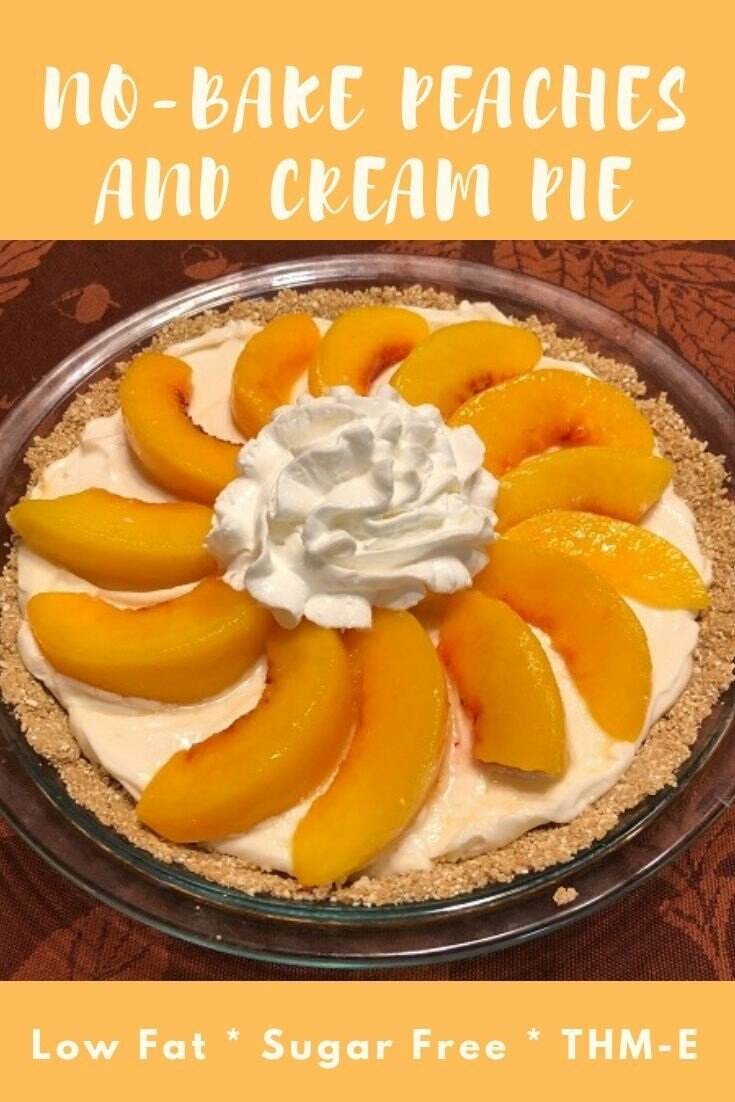 Peach season is in full swing, and I keep seeing peach recipes and requests for recipes that are on plan for folks following Trim Healthy Mama. I've seen a lot of really good on plan recipes for peaches, but I haven't noticed any quite like this. This is a no bake, creamy pie, perfect for the summer. You can sub with any fruit you choose (pineapples, banana) but peach is what I went with this time.
*Affiliate links may be included in this post. Please see full disclosure policy here.
I got the idea for the filling when I was making the cream sauce for my creamy chicken enchiladas, which are a fuel pull. For that recipe, I figured out light Laughing Cow cheese and fat free Greek yogurt were good, low fat subs for cream cheese and sour cream. It occurred to me if I added sweetener and omitted the liquid it would make a great creamy, no bake pie filling.
The filling is a fuel pull by itself, which opens up a whole realm of possibilities. "Cream cheese" frosting for my low fat pumpkin cake? Yes please! The peaches and the oats in the crust make the pie an E fuel, though. If you were willing to bake the crust, the beauty blend pie crust in Trim Healthy Table is a fuel pull. Then if you used berries instead of peaches, this could be a fuel pull pie!
I couldn't find any no bake pie crusts that fit with E, so I made one based on the "Simple Simon" pie crusts in the Trim Healthy Mama Cookbook. The ones in the book are S. This one uses ground oats and water instead of almond flour and melted butter. It is probably a bit more crumbly, but I don't find that to be a major issue.
I used frozen peaches and thawed them so they were no longer frozen, but you can use fresh peaches, peeled and sliced if you like!
Pie Crust
2 cups old fashioned oats
up to 1/2 cup water
2 TBSP Gentle Sweet or equivalent
1/2 tsp blackstrap molasses
1/2 tsp butter extract (optional)
Filling
12 wedges Laughing Cow creamy light swiss
1 cup fat free Greek yogurt
1/2 cup Gentle Sweet (I actually make my own)
2 tsp vanilla extract
1/4 tsp gluccie (optional, but will help it thicken)
Frozen (thawed) or fresh sliced peaches
First, make the pie crust. Put the oats in a food processor and grind until it is powder, then 1/4 cup water, molasses, butter extract and Gentle sweet. Turn the processor back on and grind. Add the rest of the water, 1 tablespoon at a time, until the crumb mixture is moistened, but not too soggy. You may need to scrape some off the bottom with a spatula, as I know mine sometimes gets a thin packed layer under the blade.
Dump the crumb mixture into the pie dish and press to pack it together. Don't dump all the mixture at once, as you may have some left over. Start with half and add more as needed.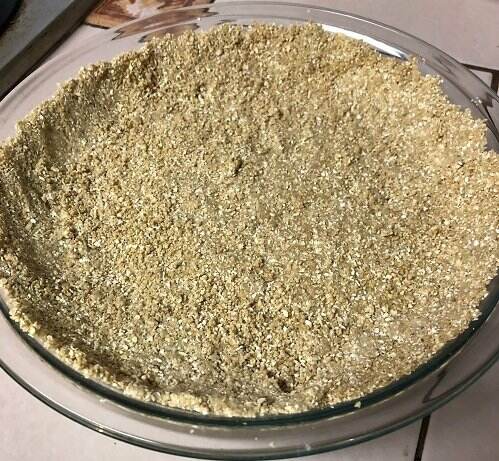 In a blender, add the Greek yogurt, 12 wedges light LC cheese, sweetener, vanilla and gluccie. Blend about a minute or so, until it is completely mixed. Pour the cream mixture into the crust, spread it evenly and lay the peaches across the top.
Refigerate 2-3 hours and serve with fat free Reddi Whip (if desired). If sliced into 8 slices, each piece will have about 2.5g fat.
I used a 9 inch pie plate for this recipe, very similar to this one. I had a little bit of the crumb left after pressing the crust into my plate, which is perfect for sprinkling on top of your pie (like graham cracker crumbs) or making a slightly larger pie. If you have a pie dish that is slightly larger than 9 inches, the crust should still be enough, but you may need to increase the filling. If you do need to do that, use the following ratios and blend in the blender.
Bigger Pie Filling
16 wedges Laughing Cow creamy light swiss
1 1/2 cups fat free Greek yogurt
3/4 cup Gentle Sweet or equivalent
3 tsp vanilla extract
1/2 tsp gluccie (optional)
*Note: This is only for a slightly larger pie. If you want to use a 9×13 dish, you will need to double the filling recipe. You could likely get away with the same crust, but you would just layer the bottom and not worry about crust on the sides.
Peach and Strawberry Variation: For a strawberries and peaches pie, chop up strawberries until you have about 3/4 cup. Place in a small saucepan, along with 1/4 cup water and 1 TBSP Gentle Sweet, 1 TBSP lemon juice and a sprinkle of gluccie. Heat on medium heat about 5 minutes, until it just starts to simmer. Remove from heat and allow to cool. Pour the cooled strawberry glaze in the center of the pie. Top with fat free Reddi Whip if desired.