Tasty Tuesday: Amazing Yeast Rolls
Steakhouse Yeast Rolls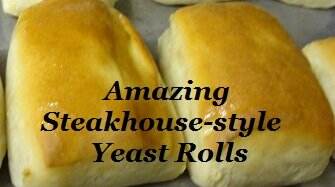 I love yeast rolls. You know, the kind you get at Texas Roadhouse or Logan's. For the longest time, the method of getting them to the right texture has eluded me even if the flavor was right. They were never quite soft enough.
Well, I finally got it. At least once. I figured out the secret is using bread flour instead of all-purpose flour and kneading the dough by hand and not just with the Kitchenaid dough hook. I know, I love not having to knead by hand and I don't like having to buy "special" flour. But, it just doesn't work just right otherwise.
 Ready to try it yourself? Here's what you'll need.
2 teaspoons active dry yeast
1/4 cup warm water
1 cup milk
1/4 cup plus 1 tsp sugar
2 tablespoons melted butter
2 3/4 cups bread flour
1 egg
1 tsp salt
First, heat up the milk with the 2 TBSP butter. I just stick it in the microwave a minute and a half, but you can do it on the stove top as well. While the milk mixture is cooling, dissolve the yeast with the warm water and the teaspoon of sugar. Put milk mixture and yeast in a mixing bowl. I use my Kitchenaid. 
Add the  1/4 cup of sugar, and 1 cup flour and mix to make a medium batter, about the consistency of cake batter. Allow to stand until light and foamy, about 8-10 minutes. Add the egg and salt. Continue to mix with the dough hook until well combined.
Slowly add remaining flour to form a soft dough. The last 1/4 cup or so may need to be kneaded in by hand. Turn dough out onto a lightly floured surface, and allow it to rest for about 10 minutes. Knead the dough about 8 minutes, until it is smooth and satiny.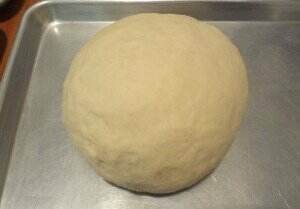 Place into oiled bowl and cover. Allow to rise in a warm area until double in size, about 1-1 1/2 hours.
On a lightly greased cookie sheet, flatten dough into a rectangle until it is about 1/2-inch thick.  With a pizza cutter or knife, cut into rolls. Place rolls on a greased baking sheet. Cover with plastic wrap and allow to rise in a warm area until doubled in size, about 1 hour to an hour and a half.

Preheat oven to 350 and bake rolls for 10-15 minutes or until lightly golden. Upon removing from oven, brush tops with melted butter.