Tasty Tuesday: Chicken and Rolled Dumplings
 Chicken and Dumplings Recipe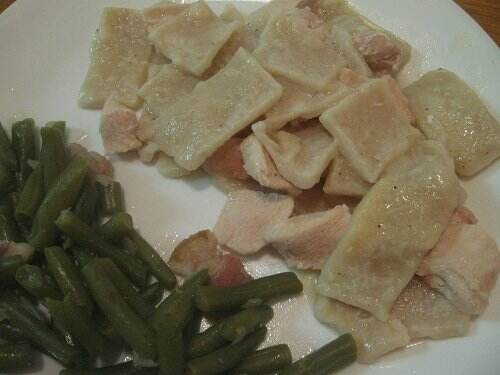 Every once in a while I like chicken and dumplings. It's just good, southern style comfort food. But for me, it has to be the kind will rolled dumplings. I just like it better than the kind you just plop in the broth. It takes a bit more work, but the difference is worth it to me.
 The dish is relatively simple to make and only requires these ingredients:

2 chicken breasts
3 cups chicken broth
2 cups water
1 1/2 cups flour
1 1/2 tsp baking powder
1/4 cup shortening
1/2 tsp salt
1/2 cup milk
1 tsp corn starch (optional, to thicken)
First, cook the chicken breasts by simmering them in the broth and water. It may take about 45 minutes.
Meanwhile, mix together the dry ingredients, then add the milk to make a biscuit-like dough. On a floured surface, roll out the dough to about 1/8″ thickness. They will puff up in the water. Cut them into 1 inch strips/squares.
Scrape out any "debris" on the surface of the chicken water, then add the dumpling pieces one by one. Cover and allow the dumplings to simmer 10-15 minutes. If you want the liquid a little thicker, you can add a tsp of corn starch to thicken.
Serve hot with your vegetables of choice for a complete meal!