AutoAir™ Bosch 500 Series Dishwasher at Best Buy
The reviewer has been compensated in the form of a Best Buy Gift Card and/or received the product/service at a reduced price or for free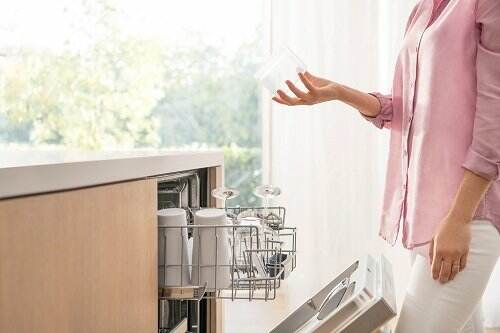 When we bought this house 2 years ago, one of the first "additions" I wanted was a dishwasher. The house we'd been renting previously didn't have one and I'd really missed having the extra help, so a dishwasher was kind of priority. So off we went to Best Buy, where we bought a Bosch dishwasher. The one we have is nice, but the AutoAir™ Bosch 500 Series dishwasher has some features that ours doesn't, such as the AutoAir™ option automatically releases the door at the end of the cycle to let moisture escape and fresh air in for drier dishes.*
Other features of the AutoAir™ Bosch 500 Series dishwasher include:
PrecisionWash. The AutoAir™ Bosch 500 has sensors that continually scan and check the progress of dishes throughout the cycle, and spray arms target every item of every load, for the ultimate clean. The Sanitize option reduces 99.9% of bacteria with a hot-wash rinse for sparkling clean and sanitized dishes.
Quiet operation (44 dBA). The AutoAir™ Bosch 500 incorporates 18 unique sound-reducing technologies such as multiple insulation layers, grindless food filtration, and a sound absorbing base. This is a nice feature which even my current one has. I like to run the dishwasher at night when everyone's gone to bed and most of the time I can barely hear it running. Bosch dishwashers are so quiet, you have to check the exterior Infolight® to know they're on.
It has a large interior and can easily accommodate 16 place settings, and the Flexible 3rd rack adds space for cooking utensils and ramekins. The FlexSpace™ Tines on the lower rack- fold down every other tine to make room for larger, bulkier items which helps to optimize rack space.
Every Bosch dishwasher is ENERGY STAR qualified and meets or exceeds federal guidelines, for year-round energy savings. The 24/7 Aquastop 4-part leak prevention system uses sensors to detect and stop leaks, and can even turn on by itself.
There's a 24-hour delay-start so you can set the dishwasher to start running while you're working, sleeping or running errands, and a a variety of cleaning choices, such as half load, delicate wash, normal, rinse & hold, and more. Electronic controls and LED display allow ease of use.
If you think it sounds like a great fit for your familyt, the AutoAir™ Bosch 500 Series dishwasher can be found in-store or online at Best Buy.
What feature do you think you would like the best?
*Compared to Bosch Dishwashers with PureDry.