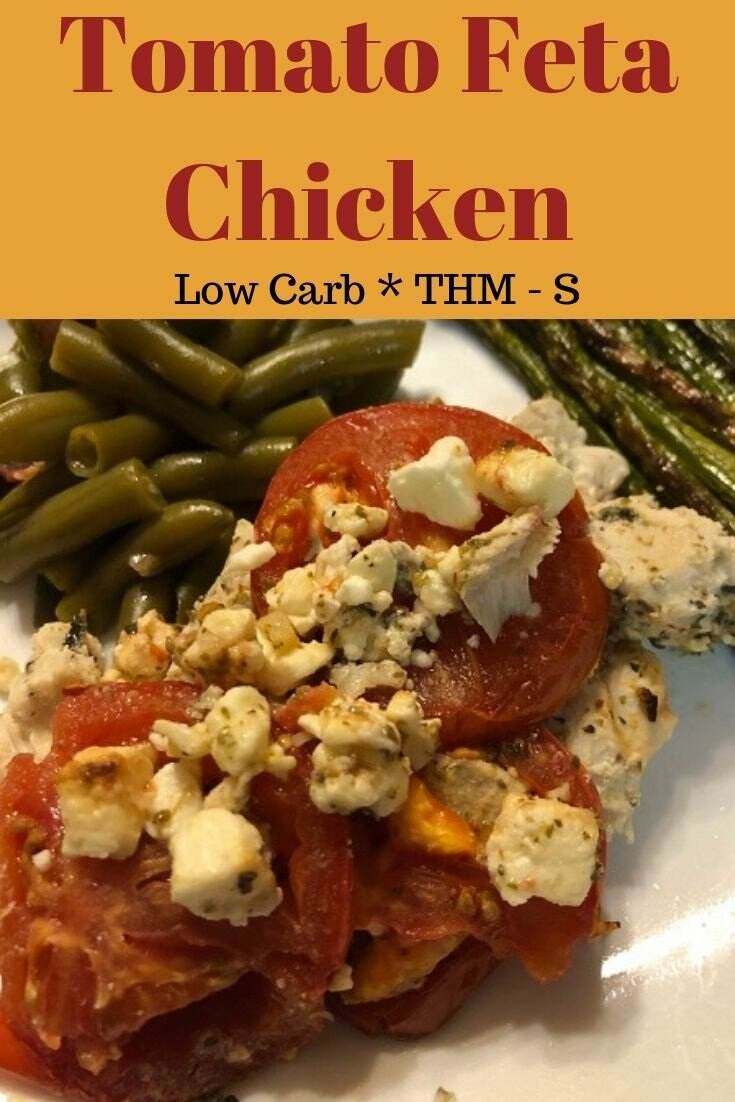 This recipe was born after I made my Fuel Pull Greek Chicken one night and my husband said "You know, this would go really good with that feta tomato stuff you make." The "feta stuff" he was referring to is my feta saganaki, where you cook it until the feta gets all melty and you can spread it on pita bread. So he wanted the feta/tomato melted to the chicken. Ok, I can do that.
*Affiliate links may be included in this post. Please see full disclosure policy here.
This is a low carb, fat containing recipe, so it would be an S on Trim Healthy Mama. Serve with non-starchy veggies of your choice for an S. Serve with brown rice or small roasted potatoes for a crossover.
Tomato Feta Chicken Recipe
3 chicken breasts cut into about 1 inch pieces
1 cup crumbled feta (I use Athenos brand)
2 vine ripe tomatoes, sliced
1 TBSP melted coconut oil
1 TBSP Greek Seasoning (recipe on the bottom if you want to make it yourself)
Yogurt Lemon Marinade
1 TBSP white vinegar
1/4 cup lemon juice
1 tbsp extra virgin olive oil
1/4 cup plain Greek yogurt
1 tsp salt
1/2 tsp Black pepper
Place the chicken pieces in a gallon sized ziplock bag and add the marinade ingredients. Massage the bag to make sure the ingredients are well blended and all the chicken pieces are coated in the marinade. Put the chicken in the refrigerator.
Marinate for at least 2 hours, preferably 3-4 hours. You may marinate overnight, but no longer than 24 hours. I have also frozen the chicken in the bag with the marinade and taken it out to thaw (in the fridge) the night before and it worked fine.
After marinating, put the chicken in a 9×9 or 2 quart glass dish. I have a round Pyrex dish exactly like this one, and I placed the steam rack that came with my instant pot in the dish before laying the chicken on it, and I really liked the results. You can absolutely make it without doing this and it will still taste good, but the juices from the tomato and chicken will accumulate in the bottom so you will have some juice for the meat to sit in. We actually preferred the texture of the chicken which it's not soaking in the juice. But by all means, use what you have.
Sprinkle some of the Greek seasoning onto the chicken (a teaspoon or so, I don 't really measure), then sprinkle the crumbled feta evenly on top of the chicken. Another sprinkle of seasoning. Place the sliced tomatoes on the feta, drizzle some refined coconut oil on top with another sprinkle of seasoning.
Bake about 40-45 minutes at 375 and drizzle some olive oil on top for serving (optional). This pairs really well with roasted asparagus if you're looking for suggestions!
Homemade Greek Seasoning
3 TBSP Oregano
1 TBSP Mint seasoning
1 TBSP minced onion
1 1/2 tsp dried minced garlic