Greek Chicken and Tzaziki
*This post contains affiliate links.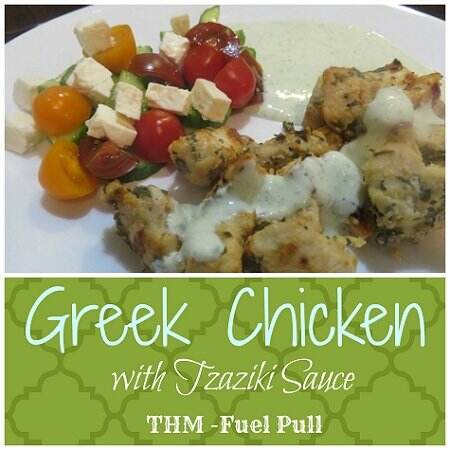 So, I have a hard time finding chicken recipes I like. Unless it's fried chicken or chicken tenders (and I don't mean in a good, Trim Healthy Mama friendly way) I tend to get tired of chicken dishes much quicker than, say, beef dishes. So I'm always needing to find new ways to cook chicken so it doesn't get old.

My Creamy Crockpot Ranch Chicken was a family favorite, but I got kind of burnt out on that, though DH would be thrilled if I decided to make it again. I wanted a dish that wasn't quite so heavy.
So, this chicken has a great flavor by itself and it's a fuel pull on Trim Healthy Mama, so that's a plus. The tzaziki sauce is lighter than regular tzaziki and it makes a fabulous fuel pull salad dressing and/or dipping sauce.
You should start prepping the chicken a few hours before you want it, as you want at least 2 hours to marinade, ideally 3-4. You can leave it overnight, but you shouldn't go over 24 hours. Because of the yogurt content, I don't recommend trying to freeze the chicken in the marinade.
The tzaziki sauce was enough for my family (2 adults, 4 small children) to have this meal twice. Some people may like more or less and if you have some extra, you can use it for veggie dip or salad dressing later. And if you feel like eating it as is as a snack by itself, that's perfectly legit, as it's full of protein and low in fat.
Greek Chicken and Tzaziki
4 boneless chicken breasts, cut into bite sized pieces.
Yogurt Lemon Marinade
*you can use 2 TBSP pre-made Greek Seasoning in place of the oregano, minced onion and mint. I like the McCormick Greek seasoning, found at the grocery store. Or, you can use my homemade blend, at the bottom of this post.
1 tbsp extra virgin olive oil
1/4 cup plain Greek yogurt
Tzaziki Sauce
2 cucumbers (the small salad cucumbers, not the huge ones. The ones I usually buy come about 6-7 in a bag)

1 1/2 cups plain Greek yogurt
1 tsp Greek seasoning (or 1/4 tsp dried onion, 1/4 tsp dried mint, 1/2 tsp oregano)
Place the chicken pieces in a gallon sized ziplock bag and add the marinade ingredients. Massage the bag to make sure the ingredients are well blended and all the chicken pieces are coated in the marinade. Put the chicken in the refrigerator. Marinate for at least 2 hours, preferably 3-4 hours. You may marinate overnight, but no longer than 24 hours.
Once the chicken is marinating, you may go ahead and make the tzaziki sauce, or wait until right before you start cooking the chicken. Just make sure you give the tzaziki at least 30 minutes to sit and the flavors to blend.
To make the tzaziki sauce, chop up the cucumbers and put the pieces in a food processor, followed by the other tzaziki ingredients. Process all the ingredients about a minute. Scoop the sauce into a bowl with a lid and return to the fridge if it will be more than 30 minutes before serving.
To cook the chicken, heat up 1 TBSP coconut oil or butter (refined coconut oil has no taste) in a large skillet on medium heat. You will likely have to cook the chicken in 2 batches or in 2 pans. Cook the chicken about 10 minutes, then turn the pieces with a fork and cook another 10-12 minutes, until cooked through. They should be lightly browned on the outsides.
I like to have my chicken with a cucumber, tomato and feta salad, with tzaziki sauce on the side for dipping. The feta would push the meal into S territory, as would the proper Greek salad found in the Trim Healthy Mama Cookbook.
You can use a low carb pita (like Joseph's pitas) to make a chicken gyro. Or for an E you could use a sprouted pita (is there such a thing?) or serve it with brown rice sprinkled with lemon juice and Greek seasoning.
And here is my homemade Greek Seasoning. I didn't place it with the rest of the recipe, because I didn't want anyone getting confused by thinking pre-making this blend was a necessary part of the recipe. This is made for me to have on hand for dishes like this one, or my feta saganaki. Use what you need for this recipe, and put the rest in an empty spice jar.
Homemade Greek Seasoning
3 TBSP Oregano
1 TBSP Mint seasoning

1 TBSP minced onion
1 1/2 tsp dried minced garlic
This post has been linked up to one or more linkies. See my party list here.
Save
Save
Save
Save
Save
Save
Save
Save
Save
Save
Save