Indulge Guilt Free with Dr. John's Inspired Sweets
I received some candy for review, but the thoughts and opinions expressed are my own!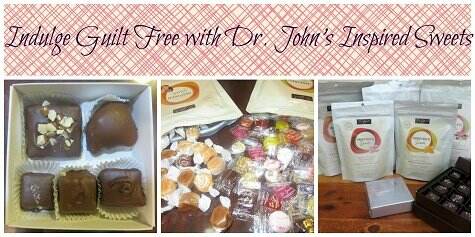 Do you love candy? I know I do. But most candy is full of sugar and/or artificial sweeteners which are things to be avoided if you're trying to live a healthier lifestyle. That's why I was so excited to discover Dr. John's Inspired Sweets.

Dr. John's sugar free candies were developed by a dentist named Dr. John Bruinsma and his wife Debra, who is a dental hygienist. Dr. John's candies are made with xylitol and studies have shown xylitol to be beneficial to your teeth. However, they also have a very low impact on blood sugar. This means xylitol sweetened candies are great for diabetics or people following a low sugar or low carb eating plan!
I bought some of the candies and the company sent me a few more to try. So I've got a pretty decent assortment here. Dr. John's has hard candies, caramels, gum and chocolates. I was really excited about the sugar free chocolates. The 5-piece chocolate sampler has one each of the peanut butter, coconut and sea salt caramel chocolates and a chocolate toffee and pecan caramel cluster.
Fortunately I had boght myself a full size box of the sea salt caramels, because those were my favorites of the chocolates. I'm a huge fan of caramel, so I had a feeling I would like these. I also got a bag of the caramel lover's collection.
If you need stocking stuffers for a sugar free family member, the caramels, taffies and hard candies are all great choices. The peppermint is the only taffy I tried, and I do think it could use a little more of the flavor, but the caramel swirls have a fantastic flavor!
Although these xylitol candies are delicious, there are a couple things to be aware of. First of all, xylitol is not safe for pets, so please exercise caution if you have them in the house! Secondly, it is best not to go overboard with xylitol. I found my personal limit is about 3 at a time before I get tummy issues, especially if I have a chocolate or two. The chocolates do contain malitol, which is still considered a natural sugar alcohol but does tend to be a little rougher on the tummy. You should be fine as long as you moderate yourself!
There is free shipping available for orders over $60. There is also 2 day shipping available, so it's not too late to get some last minute sugar free stocking stuffers! And Valentine's Day is around the corner, so some signature chocolates would be the perfect choice for someone who can't have sugar but still loves chocolate!
What's your favorite sugar free candy?
Save
Save