Creamy Ranch Crockpot Chicken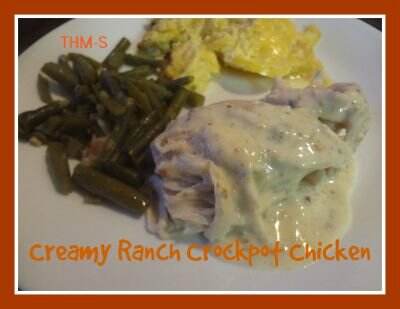 Repin this recipe for later!

Before joining Trim Healthy Mama, I had this really easy go-to chicken recipe that I could put in the crockpot. The only thing is it uses cream of chicken soup which has some iffy ingredients in it. But it turns out it's pretty easy to alter the recipe without taking away any of the yumminess!

My husband loves this dish. We used to eat it over potatoes or rice, but since this is a THM S, those are not good options for weight loss. It tastes really good on its own and last time I made it I had it with green beans and cheesy squash casserole. You could also serve it with mashed "fauxtatoes" if you want, but my tummy doesn't tolerate those.
This is a great recipe to leave in the crockpot Sunday morning while we go to church and it's ready when we get home for lunch
When making this for my family, I use:
3 boneless chicken breasts (you could use up to 5 without having to increase the sauce)

1 8 oz package of cream cheese
2 cups chicken broth
1 package of ranch dressing mix (I use Simply Organic), or 3 TBSP homemade
 Place the chicken in the crock pot first. I have even put them in there frozen with no problems. Place the cream cheese on top, followed by the ranch powder and chicken broth. Cover and cook on high 5-6 hours, or low 7-8 hours.
When you take it out, it should be tender and fall apart. Pour extra sauce over the chicken. It makes a delicious gravy!
This recipe is sooo easy and tasty! And if you love the meaty creaminess of this recipe, make sure you try out my recipe for creamy beef stroganoff!
 Repin this recipe for later!