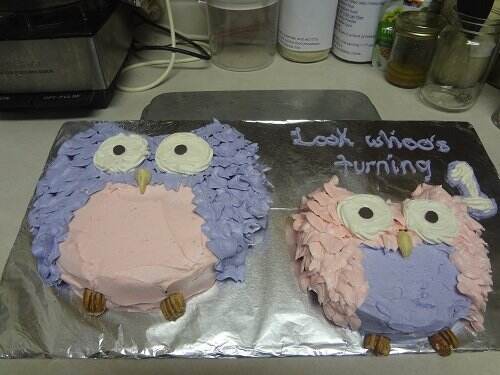 This is the cake I made for Lil K's first birthday. I literally decided on this cake like 2 days before her birthday. I used be all into cake decorating and think I was going to make these grand cakes for my kids, but it turns out I prefer simple, but cute. Although my son's pirate ship cake and my daughter's castle cake may suggest otherwise…
Anyhow, this pair of cakes is actually pretty simple. I managed to get them both out of one chocolate cake recipe and buttercream frosting recipe. There were just 4 adults and 3 small children to serve and we still ended up having a little left over, so…we didn't do too bad. My one-year-old did get to plow into the little one on her own!
I used a 9 inch round and 5 inch round and the cakes were only one layer apiece. To get the cake, I simply used a bowl over the edge of the cake and cut around the outline to make the ears.

Pick two main colors. I used pink and purple. Leave just a little bit of icing white to use for the eyes. Ice the area that will be the bellies opposite colors.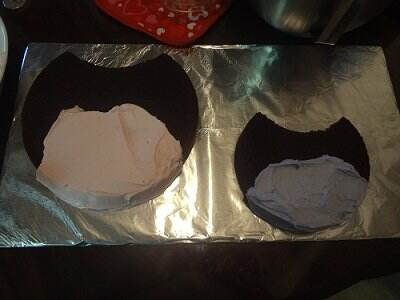 Using a large leaf tip, cover the rest of the cake in feathers.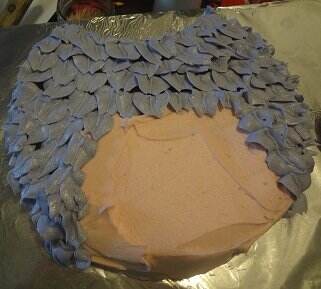 Add eyes and use chocolate chips for pupils. Use cashews for beaks and pecan halves for feet.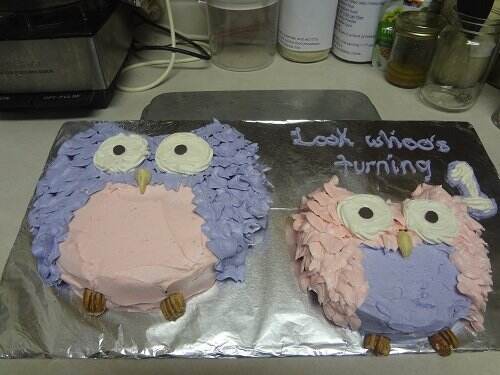 Cute and easy!