Tasty Tuesday: Fabulous Devil's Food Cake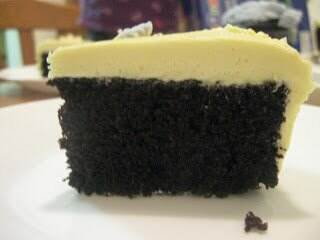 If you want a really good devil's food cake recipe, I think this is a pretty good one. I just made this for my daughter's birthday, and it was amazing! Perfect flavor, texture, etc. I only used half the recipe, but the full recipe makes 3 9-inch rounds or about 30 cupcakes. We think it works best with my fabulous fluffy icing recipe!





1/2 cup plain Greek yogurt (you can also use sour cream, but I prefer the yogurt)


    
    
     First, boil 2 cups of water on the stove. Once the water is boiling, add the cocoa powder and whisk together and remove the pot from heat.
     While the cocoa mixture is cooling, beat together the butter and sugar. Add vanilla, then the eggs, one at a time, followed by the Greek yogurt.
     In another bowl mix the flour, baking soda, baking powder and salt. Alternate adding the flour mixture and the cocoa mixture to the butter mixture and continue beating until it is thoroughly mixed.
     If using cake pans, line the bottoms with parchment or wax paper, then coat the inside of the pan with cooking spray (Baker's Joy works best for cakes). Divide the batter evenly among the three pans, usually just over halfway.
     If making cupcakes, place cupcake papers in a muffin tin and fill each cup about halfway with batter.
     Bake the cakes in the oven, preheated to 350 degrees and bake about 25-30 minutes or until a toothpick inserted in the center comes out clean. Remove the cakes from the oven and carefully flip them onto a cooling rack to cool.
     Once cool, decorate as desired. Enjoy!