Tasty Tuesday: Fabulous Fluffy Frosting
Fluffy, Creamy Frosting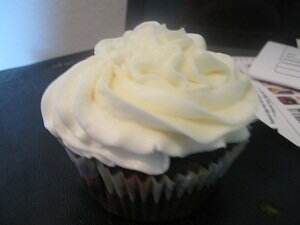 This icing is fabulous. Seriously fabulous. Especially when paired with my favorite chocolate cake recipe. I've always loved the fluffy texture of the icing you get on store-bought cakes but the method has always eluded me. But now I've discovered the secret. Heavy cream. 
     Okay, now you know the secret. Ready to learn the method? For the full recipe (which can ice about 3 dozen cupcakes) you'll need: 

     2 1/2 sticks butter (softened)
     5 cups powdered sugar (sifted)
     1/4 tsp salt
     1 tsp vanilla extract 
     2/3 cup whipping cream

Beat the butter, salt and vanilla with an electric mixer about a minute, until creamy. Add sifted powdered sugar one cup at a time on slow speed, until powdered sugar is incorporated, then move to high speed and beat another 3 minutes. Gradually add the cream and beat another 2-3 minutes, until it starts to really fluff up. 
     Put into a decorating bag and use it to ice your cupcakes! Or other cake.