Jake and the Neverland Pirate Cake
 Jake and the Neverland Pirate Ship Cake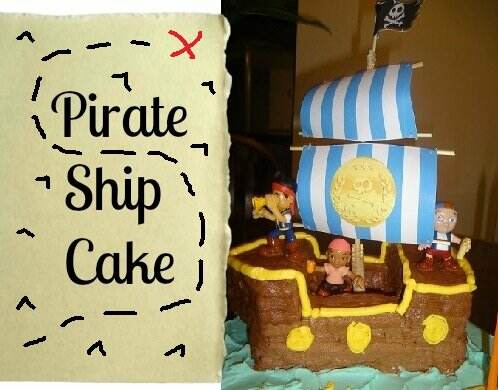 Last week I told you about the princess castle cake I made for my daughter's 5th birthday. Well, my son's birthday is only 10 days after hers, and he wanted a Jake and the Neverland Pirates cake. So what you see above is what I came up with.
I was able to make the ship with just a half chocolate cake recipe. I made one 9 inch round and used a loaf pan. After leveling the round cake, I cut it into quarters.

Next, I cut the round parts off the quarters to make triangles.

Using the cake baked in the loaf pan as the ship base, trim the triangles so they are the width of the loaf.

Do the same with with the round edges you cut off previously.

I forgot to take a picture of this step, but I cut the triangle parts off just two of the house-shaped pieces I cut in the third step, leaving behind thin triangles (not pictured). Then I cut again, as pictured below. Remember, leave two of them house-shaped.

Now that you have all the pieces, you are ready to assemble. Using icing as the glue, attach the pieces like so: I used two of the house shaped pieces for the front of the ship, allowing the pointy parts to hang of the edge of the loaf cake (which made a perfect base).
The cut off rounded edges, stacked together made the back, along with the two rectangles that had been cut from the other two house shapes. The bigger part of the remaining triangles made up the sides. You can use some of your leftover tiny triangle scraps to fill in the triangle shaped gaps.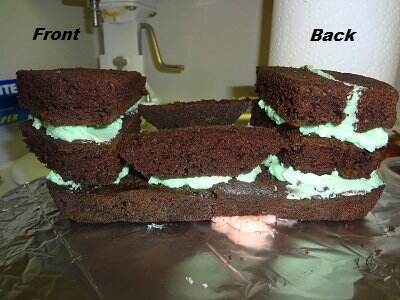 I used the Wilton #48 tip to make wood planks out of chocolate icing and the #10 tip to outline the top of the ship in yellow and make the windows. The cake board was covered in blue icing, like water.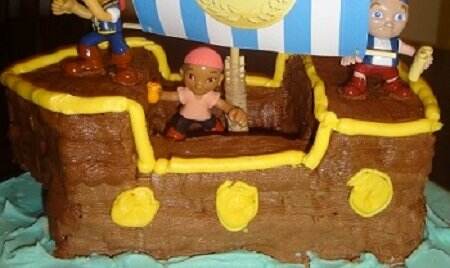 My husband made the sail. We used skewers and paper. You can print out any design you like for the sail, or leave it blank. We were doing Jake and the Neverland Pirates, so we found a design that looked like Bucky's sail. I also put the Jake and friends' figurines on the ship.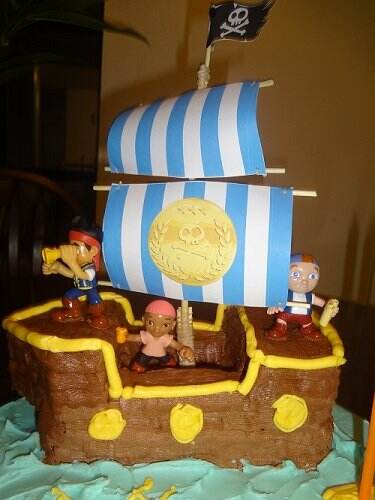 I'd love to know what you think of my pirate ship cake!