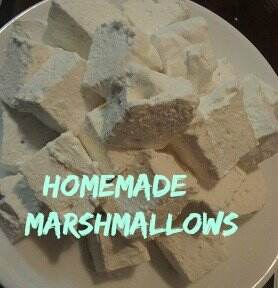 I finally got around to making my own marshmallows. At first I was a little skeptical that they would turn out right, but they actually turned out pretty well. And they taste pretty similar to the store bought ones, so if that's what you're looking for, these might be a great fit.
These were a hit at my house. We even tried dipping a few in chocolate.DH was glad I finally made them, since he's suggested it several times over the last year. My almost-5-year-old was also excited to get in on the action by helping to pour and stir ingredients. Her brother was napping during the process, so he just got to enjoy the final product. And enjoy it he did!

So, are you ready to give it a try? Great. Here's what you'll need:
1/4 cup powdered sugar
3 TBSP cornstarch
Place the two above ingredients in a bowl, mix, and set aside. This will be used for coating the marshmallows.
2 envelopes unflavored gelatin
2/3 cup water
1 1/4 cup sugar
2/3 cup light corn syrup
1 tsp vanilla
1/8 tsp salt

In whatever bowl you will be mixing in (I recommend a Kitchenaid), pour in the water and sprinkle the gelatin on top. Allow it to sit while you complete the next step.
In a 1 quart saucepan over medium heat, stir together the sugar, salt and corn syrup. Cook about 5-7 minutes, stirring occasionally, until the sugar is dissolved. Pour the sugar mixture into the gelatin mixture, add the vanilla and beat on medium high, about 10 minutes. You want it to get light and fluffy, like the texture of marshmallow fluff.
Meanwhile, line a 9×9 baking pan with foil, grease the foil, then sprinkle with 1-2 TBSP of the powdered sugar mixture. When the marshmallow mixture is ready, pour it into the pan. Get it as even as you can, but it probably won't get super-smooth. But that's part of the fun of homemade. 🙂
Allow to set at least 2 hours. Lift the whole thing out by grabbing the foil. Cut into marshmallows with a wet knife, then coat each marshmallow in the powdered sugar mixture and place on cookie sheet lined with wax paper.
Store in an airtight container at room temperature.