Homemade Oatmeal Cream Pies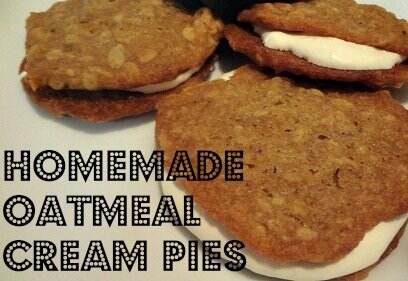 Have you ever had those Little Debbie Oatmeal Cream Pies? I used to love them. I haven't had one in a while though. Homemade treats are always better than prepackaged ones, right?
Well this homemade version doesn't taste exactly the same, but they are really, really good! This recipe will make about 9 cookie sandwiches and I have to warn you, they are a little rich. I tell you this because after your first, you will probably want a second, and then you will regret it, because it will be too much. At least that's how I felt.
Cookies:
6 TBSP softened butter
2 TBSP sunflower, canola or vegatable oil
6 TBSP brown sugar
1/4 cup granulated sugar
1 tsp molasses or cane syrup
1/2 tsp vanilla extract
1 egg
3/4 cup flour
1/4 tsp salt
1/2 tsp baking soda
1/8 tsp cinnamon
3/4 cup old-fashioned oats
Filling:
pinch of salt
5 oz Marshmallow Fluff
6 TBSP softened butter
1/3 cup powdered sugar
1/2 tsp vanilla
Instructions
In large bowl, beat butter, oil, sugars, molasses, vanilla and egg. Add flour, salt, baking soda and cinnamon. Mix in the oats. Spoon approximately one TBSP at a time onto a parchment lined cookie sheet. Bake 8-10 minutes in a 350 degree oven, until just starting to brown around the edges. You want to them to still be soft, so you may need to watch them.
While the cookies are cooling, combine hot water with salt and mix until salt is dissolved. I use a little medicine cup to do this. In large bowl, beat marshmallow fluff with butter, powdered sugar and vanilla. Beat on high until fluffy. Add in salt water and mix until well combined. Spread filling on one cookie and press second cookie on top. Enjoy!