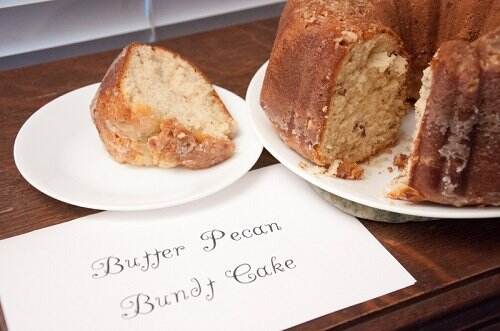 I made this cake at my husband's request the other day and he really loved it. It's more his taste than mine. He says it's just because it doesn't have any chocolate. And he may be right about that. 😛 This cake is buttery and dense, somewhat like a pound cake, but also like a coffee cake.
We used a bundt pan for this. You could probably halve the recipe if you wanted, but you'd have to use a different type of pan. This made a good size cake as is and we ended up giving some away.
First you'll make a cake, and after baking, you'll add a buttery glaze. Yeah, I know kinda rich right? Anyhoo…this is not a diet friendly cake. At all. Proceed with caution or you'll give yourself a stomach ache…
To make the cake, you'll need:
1 cup (2 sticks) butter at room temperature
2 cups sugar
4 eggs
1/2 cup milk
1/2 cup plain yogurt
1 tablespoon vanilla
3 cups flour
1 tsp salt
1 tsp baking powder
½ tsp baking soda
1 cup chopped pecans
For the glaze:
⅓ cup butter
¾ cup granulated sugar
2 tablespoons water
2 teaspoons vanilla
Mix together all the cake ingredients on low until the  and then increase the speed to medium and mix for 3 minutes. Preheat the oven to 325 degrees and grease a 10″ bundt pan with butter or shortening very liberally. Dust the pan with flour and very finely chopped nuts and set aside. Pour the batter into the prepared pan and bake about an hour, until a toothpick entered into the center comes out clean.
As soon as the cake is done, make the glaze. Combine glaze ingredients into a small saucepan over medium-low heat. Stir continuously until the butter is melted and the sugar is dissolved.
Poke holes all over the warm cake using a knife or toothpick and pour the glaze evenly on the cake while still in the pan and allow the cake to cool completely in the pan. Invert the cake onto a plate, cut and serve.