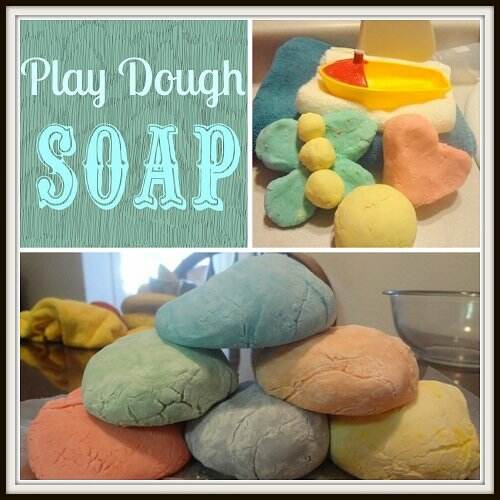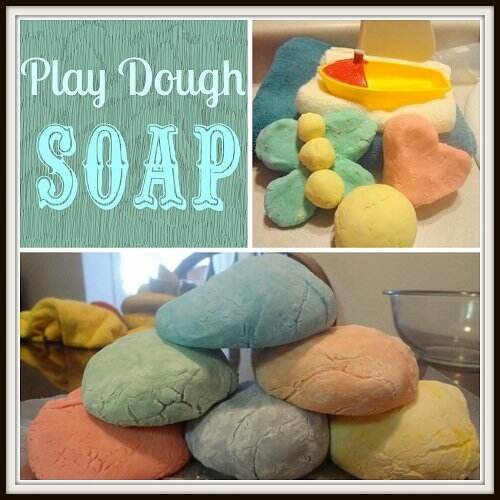 I know I did a review of some play dough soap a couple months ago and my kids really loved it. But it can get pricey to get it too often,  so I really wanted to figure out how to make my own. After a couple different methods I found something that worked well for my kids and they loved it.
In an attempt to make a natural, moisturizing play dough soap, I started out with shea butter and liquid castille soap. I though "Shea butter is kind firm and liquid castille soap is runny, so lets do a 2:1 ratio to soften the shea butter."
So, I heated up 2 cups of shea butter till melted, and added a cup of liquid castille soap. I then divided the mixture into 3 bowls and added a couple drops of food coloring to each.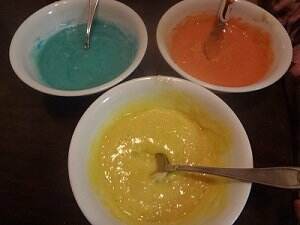 Even after cooling, this mixture wasn't really play dough consistency. So I kneaded in some cornstarch until it was a dough consistency.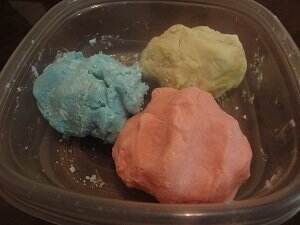 Since this mixture was more shea butter than soap, and shea butter has a distinct scent, the play dough smelled mostly like shea butter, which is not my favorite scent. Also, a play session with this stuff left a greasy residue in the tub.
So I tried again. This time I used clear liquid hand soap and corn starch. This is the most economical and simple option. I did each color one batch at a time. I put 2 drops of food coloring (more for yellow) in 1/4 cup liquid soap and mixed in 1/2 cup or so of corn starch. You could also use liquid soaps/shower gels that are already colored and scented if you like. You might get a better variety of scents this way.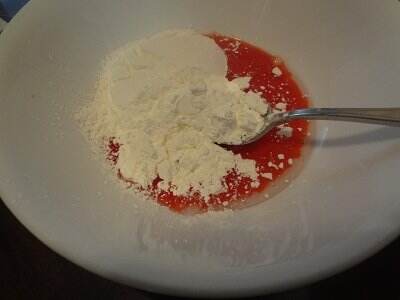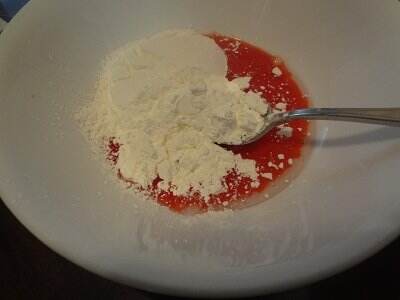 This second method is the one I will be sticking with and I'm really excited that I found a cheap and easy way to make play dough soap for my kids. Of course I don't give it to them at every bath time, but it's a fun treat for them! 
Remember:
1/2 cup corn starch
1/4 cup liquid soap with food coloring
blue: 2 drops of blue
pink: 2 drops of red
yellow: 4 drops of yellow
green: 2 drops yellow, 1 blue
orange: 2 drops yellow, 1 red
purple: 1 drop blue, 1 red
Store the finished play dough soap in a ziplock bag or other sealed container.