Tasty Tuesday: Carvel Style Ice Cream Cake
Make Your Own Carvel Ice Cream Cake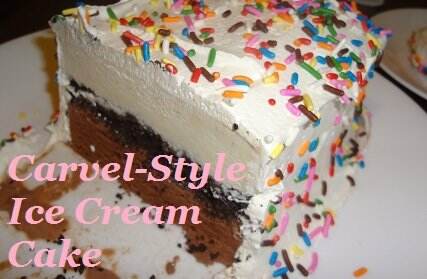 Note: If you're looking for the sugar free ice cream cake recipe, you can find it here!
I may be weird, but I'm not a huge fan of the ice cream cakes that are actually layers of cake and ice cream. I know those are popular, but what I really like are the Carvel ice cream cakes.
Have you ever had a Carvel ice cream cake? They're fabulous. Since DH and I have the same birthday (yes, no kidding!) I usually make him a German chocolate cake because that's his favorite, and I get a Carvel ice cream cake for myself. So we still get cake and ice cream, and we both get a "cake" we want. 😉
Anyway, I thought it would be cool to replicate the ice cream cake myself. What a dangerous thing to do! Because, I have to say, it was really good. Even my hubby agrees even though he's not real big on the ice cream cakes.

So, to make my ice cream cake, I used a Glad deep dish plastic storage container (64 oz). You might be able to use a glass dish, but I find it's easier to use plastic in case it needs a little help popping out.
If you use the same container I used, you'll also need:
3 cups vanilla ice cream
3 cups chocolate ice cream
10 regular Oreo cookies
1/4 cup semi-sweet chocolate chips
2 TBSP butter
Cool Whip vanilla frosting (keep in fridge, not freezer)
First, let the vanilla ice cream sit out about 30 minutes, until it is soft enough to be spreadable, but not melted. Put 3 cups vanilla ice cream in the container and spread it as evenly as possible. Put the container in the freezer, and let the chocolate ice cream sit out, as you did with the vanilla, while you grind the Oreos in a food processor. Or, you could let the kids have fun grinding them up in a storage bag.
Melt the butter and chocolate chips in a small saucepan, then add the Oreo crumbs. Take the container you earlier put the vanilla ice cream in and add the Oreo mixture and spread it as evenly as you can.
When the chocolate ice cream is soft enough, add 3 cups on top of the Oreo mixture and spread evenly. Put the container in the freezer overnight. You need the ice cream to get as solid as possible!
The next day, carefully turn the cake onto a plate. You may have to run a knife around the edge to loosen it up first. You can also press the bottom (now the top) of the container to get it out and trim the edges. Put it back in the freezer 30 minutes to an hour.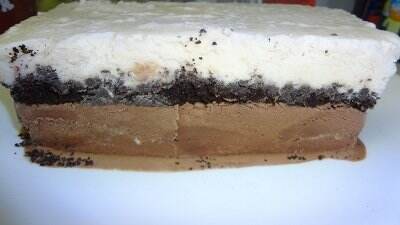 Meanwhile, take out the frosting and stir it up and let it sit out while the cake is in the freezer. You want it super-spreadable.
Ice the cake with as much icing as you need. Allow the icing layer to be think enough that it doesn't mix with the ice cream. Add sprinkles for fun.
Return to the freezer until ready to serve!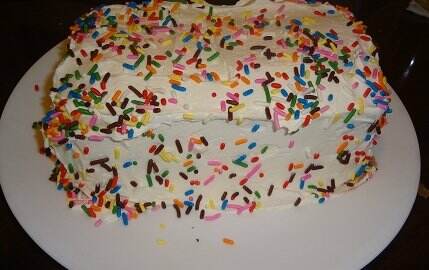 This post has been linked up at one or more linkies. To see all the linkies I've participated in, check out my link party page!