Tasty Tuesday: Chocolate Caramel Cookie Bars
Chocolate Caramel Cookie Bars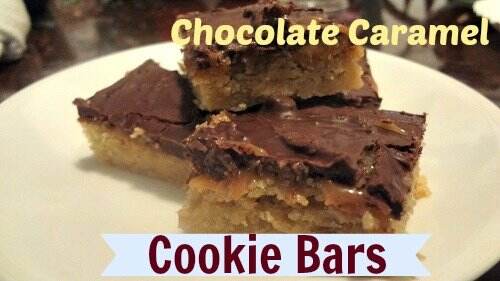 If you're a fan of chocolate, caramel and/or cookies, you might want to check out this recipe, because it's got all three rolled into one! I have a thing for chocolate and caramel, whereas DH seems to think caramel on anything is excess. And he's probably right, but what can I say?
The original idea of this recipe was to make toffee bars. But I didn't have any toffee bits and I did happen to have some caramel. I'm sure the toffee bars are also amazing and I fully intend on trying them one day.
The main difference is that for the toffee bars you need a cup of toffee bits and/or chopped nuts on top, and no caramel in the recipe. You could also go for overkill and do both. But let's not push it!
First of all, you need to make the crust. For that you will need:
1/2 cup (1 stick) butter, softened
1 cup flour
3/4 cup brown sugar
1 egg
1/2 tsp salt
1/2 tsp vanilla
In addition to the above, you will need:
1 cup semi-sweet chocolate chips
1/2 cup caramel topping
To make the crust, beat together the butter, brown sugar and vanilla, then add the egg. Next, add the flour and salt and stir in.
Line an 8 in square pan with foil and grease with butter. Spread the batter evenly in the pan and bake at 350 degrees for about 20 minutes, until lightly brown.
When you take it out, you need to let it cool completely before proceeding to the next step. To speed this up, you can poke holes in the crust with a fork and place the pan in the freezer.
Meanwhile, heat up the caramel topping, then spread evenly on the cooled crust. Again, allow it to cool.
Finally, melt the chocolate chips in a microwave safe bowl. Warm it in the microwave 45 seconds, stir, then microwave 20 seconds at a time until melted. If it is still not stirrable, you can add a tsp or two of shortening to loosen it up and get it spreadable.
Spread the melted chocolate over the top. Allow the chocolate to firm up before cutting into squares and serving!