Tasty Tuesday: Peanut Butter Cookies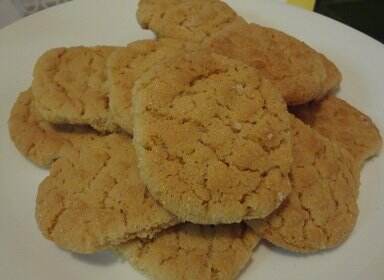 When I made homemade peanut butter a few weeks ago, DH suggested I make peanut butter cookies with it. Though I'm sure it was just a ploy to get me to make peanut butter cookies, being the wonderful wife I am, I complied. 😉
I used my favorite classic peanut butter cookie recipe and they turn out delicious anytime! However, I also have a flourless peanut butter cookie recipe that is quite good too!
Classic Peanut Butter Cookies
1 stick butter, softened
1/2 cup peanut butter
1/2 cup sugar
1/2 cup brown sugar
1 egg
1/2 tsp vanilla (optional)
1 1/4 flour
3/4 tsp baking soda
1/2 tsp baking powder
1/4 tsp salt
3 TBSP granulated sugar
Mix together the butter, peanut butter and sugars until creamy. Add in the egg and vanilla. Next, add the flour, baking soda, baking powder and salt, then mix in.
 Put 3 TBSP sugar on a small plate. Roll dough into 1 inch balls, roll in the sugar, and place on a cookie sheet, at least an inch apart. Use a fork to press down lightly on each ball. Press the other direction, to make a criss-cross design.
Bake about 10 minutes in an oven preheated to 375 degrees, or until slightly brown around the edges. Be careful not to over bake them or they will be too hard!