PB Crave Peanut Butter Review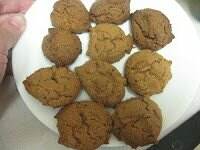 Flourless Peanut Butter Cookies
     1 cup natural, unsweetened peanut butter
     1/3 cup Gentle Sweet
     1 large egg
     3/4 tsp baking powder
     Mix the ingredients and place teaspoonfuls of batter about an inch or so apart onto a baking sheet lined with parchment paper. Bake in an oven preheated to 350 degrees and bake 8-10, until edges are starting to brown. 
     Don't wait until the cookies feel firm in the oven to take them out or the bottoms will be a little burnt! Take the cookies out of the oven and allow them to sit on the tray 5 minutes before removing them to a cooling rack.
     These cookies will be slightly on the smaller side, but still delicious! If you try to make them bigger, you may not like the result, so I recommend sticking to the instructions!