*I received free samples for this product for review purposes. All opinions are my own.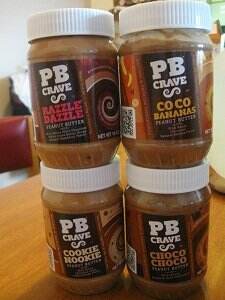 Peanut butter…need I say more? Okay, how about adding some honey and fun flavors to that? Sound good? Well that's what you get with PB Crave peanut butter!
     What is PB Crave, you ask? PB Crave is a creator of natural peanut butter with different flavors mixed in. There are 4 varieties–Choco Choco, Coco Bananas, Razzle Dazzle and Cookie Nookie. I actually thought my favorite flavor would be Choco Choco (since it's chocolate) but I found I liked Cookie Nookie best. It still has tiny chocolate chips in it and is a little sweeter than the Choco Choco. 
     I know lots of people like peanut butter and banana. I'm not a fan of the combo myself, but some in my family are! If you like that combo, you just may love the Coco Banana. But hopefully you like chocolate too, because Coco Banana also has tiny chocolate chips in it.
     There are no artificial preservatives, hydrogenated oils or syrups (including HFC!) used in PB Crave. They use only high quality ingredients. And, they taste awesome!
      And here's a really simple, few ingredient recipe for (flourless!) peanut butter cookies. Since PB Crave has a variety of flavors, that makes for some unique peanut butter cookies!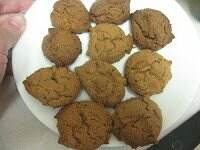 Flourless Peanut Butter Cookies
     1 cup peanut butter (I used PB Crave!), flavor of your choice
     3/4 cup sugar (you could try using stevia or erathynol, but I haven't yet
     1 large egg (to make the recipe vegan, use 1/4 cup chia gel)
     3/4 baking powder
     Mix the ingredients and place teaspoonfuls of batter about an inch or so apart onto a baking sheet lined with parchment paper. Bake in an oven preheated to 350 degrees and bake 8-10, until edges are starting to brown. 
     Don't wait until the cookies feel firm in the oven to take them out or the bottoms will be a little burnt! Take the cookies out of the oven and allow them to sit on the tray 5 minutes before removing them to a cooling rack.
     These cookies will be slightly on the smaller side, but still delicious! If you try to make them bigger, you may not like the result, so I recommend sticking to the instructions! 

     Check out celebrity chef Andrew Zimmern's video review on PB Crave, then go to the PB Crave website decide which flavor you'd like best! PS! You can also find PB Crave on facebook and twitter!