Tasty Tuesday: Stuffed Fench Toast Sticks
Stuffed French Toast Sticks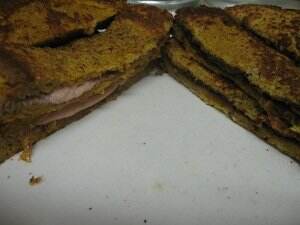 Here is a nice, comforting breakfast food. If you like French toast, you'll probably love these. And it's pretty simple to make. 
     To make these you'll need: 
     8 slices of sandwich bread
     3 eggs
     3 TBSP milk
     1/2 tsp vanilla extract
     1/4 tsp cinnamon 
     filling of choice (I used strawberry cream cheese and Nutella)

Whisk together everything but the bread and filling. Flatten the bread slices by pressing on them with your hand. Put about a TBSP of your filling of choice on each slice. Mash the slices with the fillings together and smash it a little more. 
     Dip the whole piece into the egg mixture, coating both sides, and place it in a buttered skillet on medium heat and cook about 2-3 minutes per side, until slightly browned. Cut into sticks and serve with syrup, if desired.