Wellness Wednesday: Krill Oil
*This post is brought to you by Everest Nutrition.*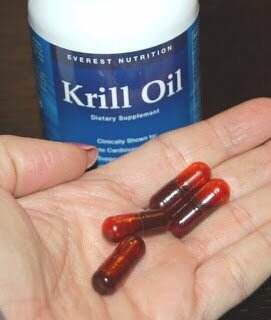 Did you know getting a sufficient amount of omega-3's can boost your metabolism? Which, of course, burns fat and can potentially help you lose weight. Fish oil is great source of omega'3's, but appearantly, Krill oil is even better.
     The benefits of krill oil don't end with potential weight loss. Research has also shown krill oil to help lower cholesterol and blood pressure, helps stiff joints, pms and cardiovasuclar issues, balances blood sugar and improves brain health and energy levels.
     Everest Nutrition extracts their krill oil from krill living in the antartic, which guarantees they are free of impurities. The krill are cold-pressed there on the ship, so most of the nutrients are retained. Everest Nutrition is the only krill manufacturer to do this. Read Everest Nutrition's complete list of FAQ'sfor lots of great info!
     Krill oil is a little on the pricey side, but this is with all brands. Just consider it an investment in your health!
*These statements have not been evaluated by the FDA. Consult with a physician if you are unsure of whether this product is for you. This information is not to be construed as medical advice.  Consult a physician before using using any vitamins or supplements.  
*Warning: If you are allergic to shellfish, you should not take krill oil, as it is a crustacean.