Make it Monday: Tissue Pull Box Toy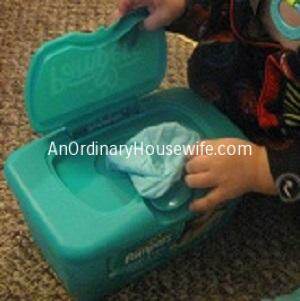 Okay, who has babies/toddlers who do not like to pull tissues/wipes out of their containers? Have you ever turned your back for a few minutes only to realize you had left a box of tissues in the baby's reach and now have a bunch of clean tissues all over the floor? 
     If this is you, your child would probably love this homemade toy for toddlers who like pulling tissues from boxes. It only requires a wet wipe container and a bunch of fabric scraps (you can use old rags or shirts). 
     First, cut out a bunch of rectangles about 12″x7″. 20 is a good number. Fold a third of the first piece of fabric under the rest of it. Then place the next rectangle on top of the first so that a third of the 2nd piece is on top of the folded part.

The fold the remaining third of the 1st piece over the new piece of fabric, as in the pic below.

Then fold the 2nd piece all the way over across the last third of the 1st piece.

Then place a 3rd rectangle of fabric just like you placed the 2nd piece previously.

Then repeat the steps until you've done the whole stack.


     Place the completely folded stack in an empty wet wipe box, pulling the loose end of the top piece through the hole. Baby will have a blast pulling them out! If you have older kids, they can help fold the pieces.

This post has been linked up at one or more linkies. To see where I link up, check out my link party page!