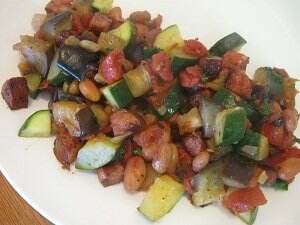 This recipe is  really light on the meat and heavy on the veggies. But it also has beans, so between the beans and the small amount of meat, you should have enough protein in a serving.
*Affiliate links may be included in this post. Please see full disclosure policy here.
Notes for those following the Trim Healthy Mama plan:
Since there is a little more than 1/3 cup of beans in a serving, this should probably be used as an "E" meal, even though the numbers barely go over 10 net carbs. It's a case of "ingredients over numbers" and the bean limit for a fuel pull is 1/4 cup (pg 59 of the Trim Healthy Mama Plan book). But that means you need to add some more carbs to make a true E. You don't necessarily need to hit 45 net carbs, but you want more than the 12 or so that are already in this meal. You could add 1/2 cup of cooked brown rice, or have a piece of fruit at the end of your meal.

If you want to make this meal as a FP, you can use just 1/2 the can of beans. Or for an S, halve the beans and use a higher fat and/or bigger serving of sausage if you prefer.
Anyway, this is healthy, full of veggies and takes about 30 minutes. It's a little quicker than traditional ratatouille. And it's a full meal.
Easy Ratatouille Recipe
1 tsp coconut oil
2 TBSP chicken broth
1/2 cup diced onion
2 cloves garlic, minced
1 eggplant, peeled and cubed
1 14.5 oz can diced fire-roasted tomatoes, drained
2 zuchini, cubed
1 can cannellini beans or Navy beans, drained and rinsed
1/4 cup fresh parsley
1 large link of turkey sausage (1/2 of a 13 oz package)
     salt and pepper to taste

Cut the the sausage into small pieces. The smaller the better, as it will spread the flavor out more. Cook in a large non-stick pan on medium heat until lightly browned and set aside.
Next, add the oil and chicken broth to the non-stick skillet. Add onion and saute about 5 minutes, until it starts to soften. Add the garlic and eggplant. Cover and cook for 10 minutes. Add tomatoes and zucchini and cooked covered another 10 minutes. Stir in beans, cooked sausage, parsley salt and pepper. Cook about 2-3 minutes until heated through.
Makes 4 adult sized portions.
 
This post has been linked up at one or more linkies. To see all the linkies I've participated in, check out my link party page!