Tasty Tuesday: Chicken Salad
Chicken Salad Recipe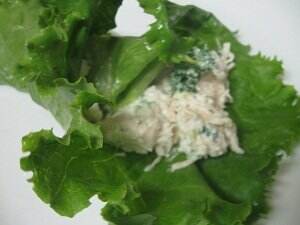 This is a chicken salad recipe I've used a few times now. I've tried it both with boneless chicken breast I cooked myself, and canned chicken breast. It always turns out pretty good and the hubby really likes it too. And since I've been trying to limit wheat products (not easy, that!) I've been wrapping my chicken salad in large green lettuce leaves instead of putting it on bread. And I must say it's pretty good. 😀 
     Curious yet? Well, here's the recipe so you can try it for yourself! 
     cooked, cut up chicken (about 2 boneless breasts or 2 10 oz cans)
     1/4 cup sour cream or yogurt
     2 TBSP mayonaise
     2 green onions, sliced thin
     3 TBSP finely chopped parsley
     salt and pepper to taste

     Mix all the ingredients together. Put in the fridge, covered, for better flavor. The longer it sits, the stronger the taste. Serve as a sandwich on bread, or wrap it in a large green lettuce leaf for a lower-carb option. Either way, it makes a great light lunch!