Tasty Tuesday: Chicken and Mushrooms
Mushroom Chicken Recipe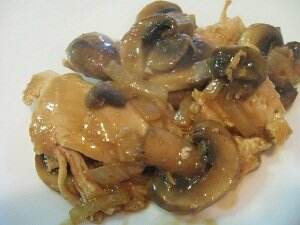 Here is a mushroom chicken recipe that is really good! My whole family loved this recipe and that is saying something! So if you are looking for boneless skinless chicken breast recipes (because that's the healthiest part!) this is a pretty good one! It is kind of similar to chicken marsala, but does not use marsala wine. 
     To make this tasty dish, here is what you'll need: 
     4 chicken breasts
     3-4 TBSP olive oil
     8 oz package of mushrooms, sliced
     1/3 cup chopped onion or shallots
     1 can (or 14 oz) of chicken broth 
     2 TBSP flour
     First, fully cook the chicken breasts on medium heat, about 5-7 minutes per side. Put the cooked breasts aside, then heat up the rest of the oil and add the mushrooms and onions. Stir it around until the mushrooms and onions begin to soften a bit. 
     Next, add the chicken broth and flour and whisk (I just use a fork) until it becomes like a runny gravy. When the mushrooms are tender, return the chicken breasts to the skillet and turn to coat. 
     Serve the chicken breasts and put 1/4 of the mushroom gravy mixture on each chicken breast. 
     Enjoy! 
     If you try this recipe, I would love to know how you liked it!