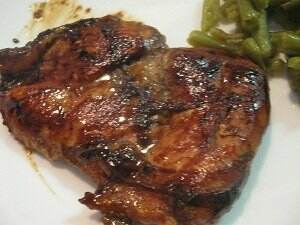 This is a very flavorful chicken breast recipe, which I am always on the lookout for! Marinated in soy sauce and pineapple juice, this makes a sweetly savory dish that is sure to please. It almost tastes like the bourbon chicken or terriaki chicken you get at the chinese buffet and would probably taste awesome with fried rice!
     So let's go to it! What you're going to need is:
1/2 cup soy sauce (low sodium would so well, as this was just short of being too salty.)
1/4 cup brown sugar
3/4 tsp garlic powder
1/4 cup pineapple juice (or juice from 8 oz can of pineapple tidbits)
2 tsp vanilla extract
2-3 chicken breasts
Marinate the chicken breast in all the other ingredients about 30 minutes. Place marinated breasts in lightly oiled skillet on med-hi and cook about 5-7 minutes. Flip the chicken breasts and cook for another 5-7 minutes. If using the pineapple tidbits, add them in for the last minute or two of cooking and serve with the chicken.
This post has been linked up at one or more linkies. To see all the linkies I've participated in, check out my link party page!