Make it Monday: Homemade Bath Salts
Homemade Bath Salts
     Here is a homemade bath salt recipe that makes a nice gift for your mom, sister, grandma or girlfriends. It's quick, easy and pretty inexpensive to make.
     You'll need:
     3 cups Epsom salt (I got a 4 lb bag of the store brand for $2-3)
     3 cups Kosher or sea salt (about $1.50 for a box of store brand kosher salt)
     1 cup baking soda (optional, for softening the skin)
     essential oils (optional, and you can also use vanilla/almond/peppermint extract)       
     food coloring (optional, but makes it easier to personalize)

     If you don't have kosher or sea salt, that's ok. The main thing is the Epsom salt. All the other ingredients are really optional. Other optional additions are a cup of finely ground oatmeal and/or a cup of powdered milk. Mix and match to make it your own!
     So first, you'll mix the salts and baking soda (and oatmeal or powdered milk if using them). Then add your fragrance. I used a tsp essential oil for this recipe and it turned out rather strong. So I would start with 1/4 tsp and work up from there. 
     Also, I believe essential oils are more potent than the extracts, so I think a tsp of extract would have been fine for that amount.
     If making different scents (you'll want to put those in different containers), you can divide it into different bowls as in the next step.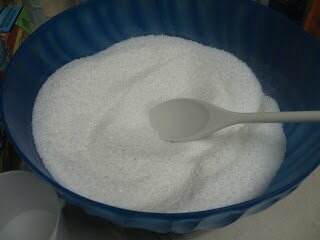 Then divide the salt into however many colors you want and use a few drops of coloring until you get the desired color. Liquid color will clump, so make sure you mix it really well. 

     I chose to put mine in sandwich sized bags. You could also put these in a jar. Add the salts 1/2 cup at a time, alternating the colors as you wish.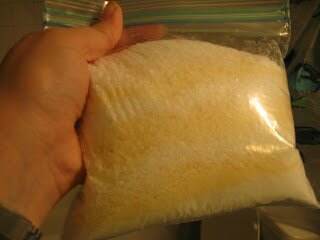 Get a piece of card stock and write or stamp "Bath Salts" and write instructions. I wrote instructions to add 1/4 cup to warm bath water across the bottom, and the scent I used in the upper lefthand corner.
     If using a jar, you can use a ribbon to tie the instructions on.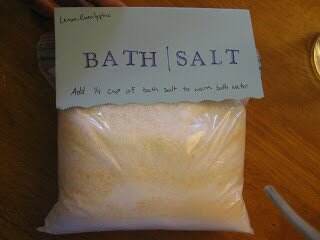 It is ready to give away now. Give it by itself, or as part of a gift basket!