DIY No Sew Mermaid Costume
No Sew Mermaid Costume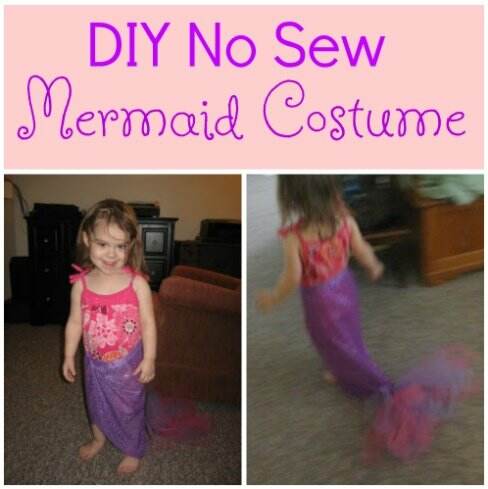 Here is a "no sew" mermaid costume I made for my daughter, since I'm not too handy with the sewing machine. My sewing machine is fabric glue. 😉 It's not fancy, but if you're looking for no sew costume ideas, this is cute for a little girl.  Anyway, about half a yard of material was enough for my 2 year old. You probably want to get a yard just in case. Especially if you want to use the same material for the "fins."     
The first thing you'll want to do is measure the length of your little "mermaid's" legs. Cut the material that length, then cut it at a curve, like in the pic below.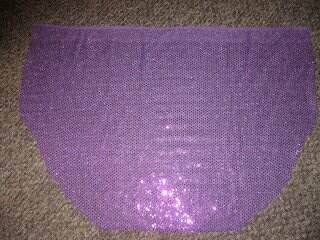 Then use fabric glue or a glue gun to glue pieces of velcro to the waistline. In the pic below, the velcro piece on the right will be facing toward the body. The piece on the left will be facing away from the body. You can see it's on the other side of the material.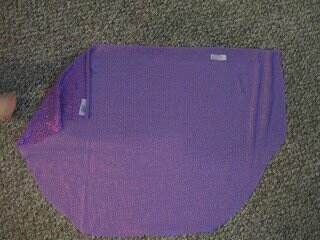 Cut a small hole near the bottom. Not too close, because you don't want to completely cut it to the edge.     
Next, loosely tie together the ends of a string or piece of yarn to form a circle. I say loosely, because you want to be able to untie it easily later. Cut your pieces of tulle into about 6 inch widths and at least 2 foot lengths. I used two different colors and alternated.     
Pull a strip halfway through the circle of string and tie it.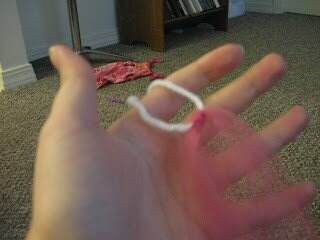 Do that with another piece of tulle, and so on, until you have about 16-20 strips of tulle on the string. Bunch the tulle knots together on the string as close as you can. Then, untie the string and put one end of the string through the hole you made in the "tail."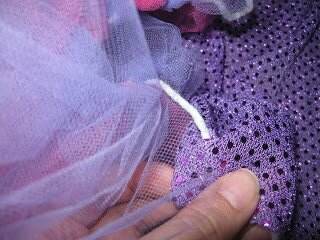 Now you have the fins.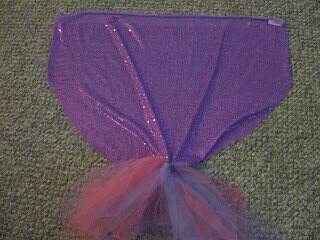 Wrap the tail around your little mermaid's waist, fastening the velcro pieces together. Snip a hole in the waist opposite from the velcro that the loose end of the waist can be pulled through and tied.

At a cute little tank top and you've got a no sew mermaid costume!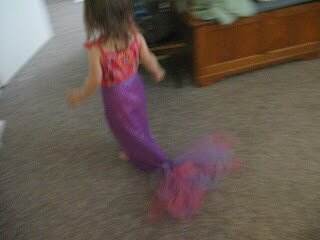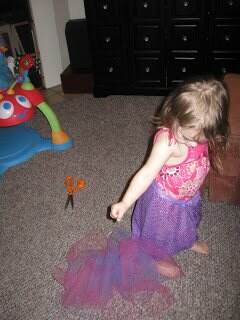 Save
Save