Festive Friday: Train Cake
Train Cake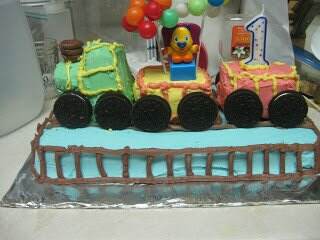 Today I thought I'd share the cake I made for my son's first birthday. It is not quite as simple as my daughter's flower cake, but it's not super complicated either. As you can see, it is a train cake. Not super steady work, but it was late and I was ready for bed!
     For the train cars I used a loaf pan for the cakes and Oreo cookies. After baking the mini cakes, I trimmed the tops so they were flat. I cut a couple of the loaf cakes in half and stacked the halves, as pictured below. I also took 3 oreos and "glued" them together with icing for the engine car.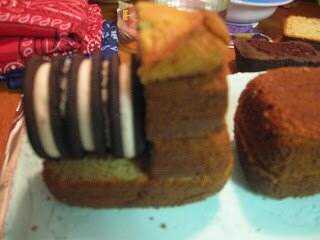 I found that the Wilton cake icer tip works just right for covering 3 oreos and it also worked well for the rest of the car. I used oreos for the wheels as well! Decorate the cars as you see fit. You can use lots of candy if you want. I used a random toy my kids had and a number candle. What do you think?