Tasty Tuesday: 90 Minute Rolls
90 Minute Rolls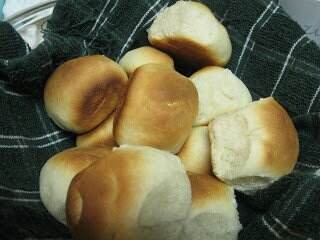 You need a great homemade roll recipe? Well, you've come to the right place. Even better, they can be done in an hour and a half! I actually got this recipe from the Living on a Dime newsletter, but they sounded so good I had to make them ASAP, and they didn't disappoint. This recipe works well with a Kitchenaid mixer fitted with a dough hook.
     So here's what you need:
     2-2 1/2 cups flour
     1/2 tsp. salt
     2 Tbsp. sugar
     1 pkg. or 1 Tbsp. yeast
     1/2 cup milk
     1/4 cup water
     2 Tbsp. butter
     First, mix the yeast, sugar, salt and 1 cup of the flour.
     Heat up the water, milk and butter until it is very warm. I stuck it in the microwave about a minute in a microwave safe measuring cup. Then pour the liquid into the flour mixture and beat on medium speed.
     Mix another cup of flour and continue mixing with the dough hook another 5 minutes. You can knead by hand if you have no dough hook. Add more flour if necessary. You should end up with a smooth ball of dough.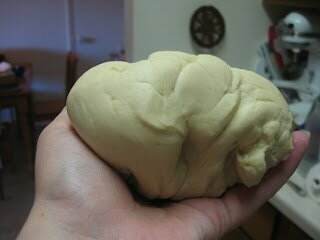 Allow dough to rise in the bowl for 15 minutes. Then divide the dough into 12 rolls in a greased round pan.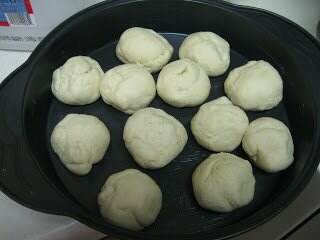 Allow to rise another 15 minutes. About 5 minutes into 2nd rising, preheat oven to 375 degrees. That way the oven will be ready at the end of the 15 minutes. You can see how much the rolls rise in the picture below.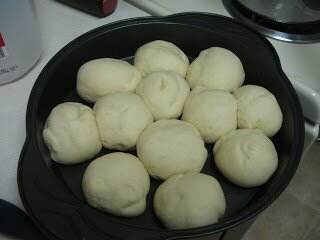 Bake about 20-30 minutes, until nicely browned. Remove from the over and served hot with butter! Awesome!