Tasty Tuesday: Chocolate Cream Cheese Brownies
Chocolate Cream Cheese Brownies Recipe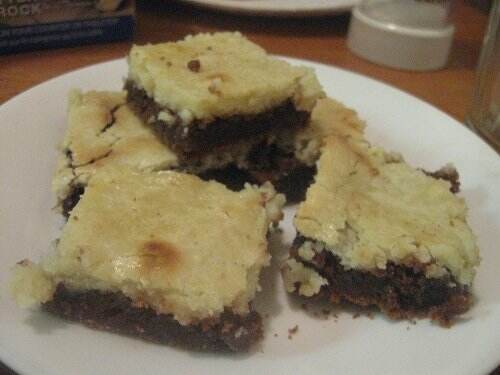 I know I've shared my favorite brownie recipe before and it's definitely always a hit, but I also really like these chocolate cream cheese brownies featuring a cream cheese layer. I just really like cream cheese desserts, in case you didn't know!
 DH prefers the regular brownies, though he certainly won't turn these down when they're around. After all, it uses essentially the same recipe as the regular brownies, but has the added cream cheese layer.
 This recipe is actually made in 2 steps, but don't worry–it's not really that complicated! And believe me, the results are definitely worth it if you're wanting something a little extra. These are sure to be a hit at any party!
So, to make these chocolate cream cheese brownies, here's what you're gonna need:
Chocolate Layer
1 cup (2 sticks) butter
4 1 oz squares semi-sweet chocolate (I use Baker's)
2 cups sugar
2 tsp vanilla
4 eggs
1 1/2 cups flour
1 tsp baking powder
1 1/2 tsp salt
Cream Cheese Layer
8 oz pkg cream cheese, softened
1/4 cup butter, softened
1/2 cup sugar
2 TBSP flour
1 egg, beaten
1/2 tsp vanilla
First, for the brownie layer, melt the butter and chocolate on the stove. You may be able to use the microwave, but I use the stove. Once it is all melted and mixed together, allow it to cool.
Meanwhile, mix the flour, salt and baking powder in one bowl, and in your mixer bowl beat together the eggs and sugar. Then slowly add the chocolate mixture and vanilla followed by the flour mixture. Mix until well blended.
Spread in a greased 13×9 baking pan, then get started on the cream cheese layer.
Beat together the cream cheese, butter and sugar. Add the egg, vanilla and flour and mix until thoroughly blended. Spread the cream cheese batter over the chocolate batter.
Bake at 350 degrees 25-35 minutes, until an inserted toothpick comes out clean. Allow to cool and cut into squares.
This post has been linked up at one or more linkies. To see all the linkies I've participated in, check out my link party page!